After giving up a home run to Bobby Abreu of the Angels, the greatest reliever of all time, the Yankees' Mariano Rivera, said to Kevin Kernan of the NY Post,
"The pitch didn't get there enough. It was middle in, not in enough. He put good wood on the ball. You have to make sure you get it there. It didn't get there."
"Not getting there" is also what happened in his previous appearance Sunday night when Mo gave up a double that went high off the Green Monster to Boston's Marco Scutaro.
But what does "not getting there" really mean? Mariano is referring to his cutter that for so many years broke so sharply that he sawed off bats like they were dry kingling. Kernan write that when Yankee manager Joe Girardi was asked how often the cutter does not cut, he answered,
"Very, very seldom. You don't see it very often, and he happened to throw one tonight."
Girardi is an honorable man, but the liklihood is that he is protecting his superstar by not adding, "But it's happening more frequently these days."
Let me show you what I mean.
Mariano's cutter in 2009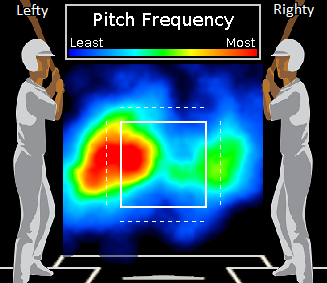 Batters hit .170 against Mo in 2009Look at the consistency in the pitches. The more he hit a spot, the more red appears. Mariano was cruel against lefties. He held them to a .174 avg. because they coudn't get around on the pitch. Righties couldn't reach the ball, they hit .165 against him.
Mariano's cutter in 2010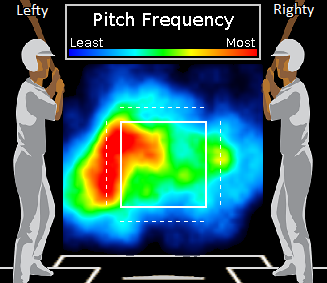 Batters hit .185 against Mo's cutter in 2010Look at the green and yellow start to grow. Those were the first signs of the cutter not cutting as much. It's by no means significant here but serves more as an indicator. As that ball drifted toward the middle, it was lefties that saw the first benefits. They hit hit .218 against him last year. Mo still owned righties however holding them to a .139 avg.
Mariano's cutter in the first half of 2011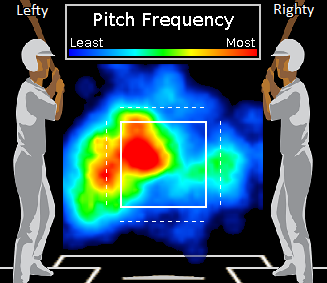 Batters hit .214 against the cutter leading up to the breakLook how much of the plate Mariano took in the first half with the cutter. The red area now covers a good portion of the middle of the plate. Lefties were up to .224 against him as they put more balls into play with the good part of the bat. Righties were up to .204. Now I know .204 is nothing, but when you compare it to .139, it's something.
Mariano's cutter since the 2011 All-Star break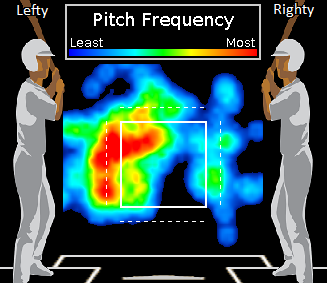 Batters are hitting the cutter at a .303 rate since the breakOverall, batters are hitting .263 in games in the second half of this season. His ERA is 3.48. As for the cutter, you can see it's "not getting there." Lefties are hitting .350 against it, righties .231. But there's more as Mark Simon of ESPN.com points out in his comprehensive look at Mariano,
"Rivera is not putting hitters away with two strikes as well as he usually does.....He's given up 16 hits in favorable two-strike counts (0-2, 1-2, 2-2) this season, nearly twice as many as he did in 2010 (9)."
Does this mean that Rivera is done? By no means.
His ERA this season is 2.23 and his career ERA is 2.23. His WHIP is still a sparkling 0.992.
But it does mean is that like the continental drift, Mariano's cutter is clearly moving, slowly but surely into the territory of mere mortals. And that is not the way we are accustomed to describing Mariano Rivera.