Adam Wainwright's Wicked Curve
Friday, October 19, 2012 at 1:29PM
David Golebiewski in Adam Wainwright, St. Louis Cardinals, curveball, world series
Adam Wainwright has both tested his reconstructed elbow and tortured hitters with his curveball this postseason. Wainwright, who stretched the Cardinals' NLCS lead over the Giants to 3-1 last night, has struck out 20 hitters overall. Seventeen of those whiffs have been on curveballs. Simply put, Wainwright has left a curveball high in the strike zone about as often as TBS has run a Bruce Springsteen-less commercial break.
The 31-year-old righty has unleashed 75 curveballs this postseason. Just four of those curves, or about five percent, were located in the upper third of the strike zone. For comparison's sake, starting pitchers threw 18% of their curves high in the zone during the regular season, and they have done so about 14% during the playoffs.
Against righties, Wainwright is placing his curve low and away:
Wainwright's curveball location vs. righties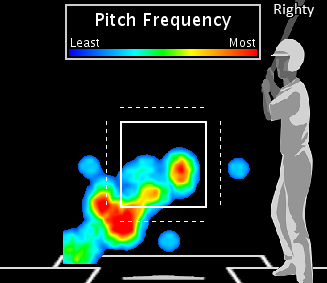 He's mixing it up more against lefties, throwing low-and-away curves for strikes but also burying pitches in the dirt:
Wainwright's curveball location vs. lefties
Those earth-bound breaking balls have produced most of Wainwright's strikeouts:
Location of Wainwright's strikeouts with his curveball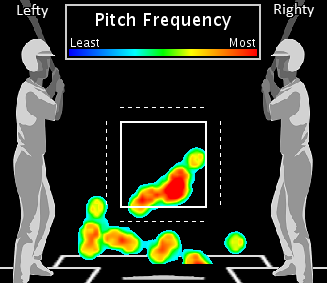 Hitters have gone just 2-for-26 against Wainwright's hammer this postseason. If the Cardinals do finish off the Giants, Wainwright's curve could be in for a challenge against the Tigers. Detroit has a collective .427 slugging percentage against curveballs thrown by righty pitchers this season, far above the .335 major league average. Just don't expect Wainwright to hang one, Miggy and Prince.
Article originally appeared on MLB Baseball Analytics (https://baseballanalytics.org/).
See website for complete article licensing information.