David Golebiewski
|

Wednesday, June 6, 2012 at 7:56AM
With the Yankees locked in a typically vicious AL East race and Michael Pineda out for the year, Andy Pettitte's return from retirement has morphed from a depth-adding bit of nostalgia to a crucial factor in the Bombers' playoff prospects. Pettitte, days from his 40th birthday, hasn't disappointed. The left-hander blanked the Rays over 7.1 innings last night, striking out ten batters while pulling the Yankees within a half-game of the division lead. Pettitte's slider was key, as he used it a quarter of the time and got five punch-outs with the pitch. That breaker is why Pettitte boasts the best K rate (8.1 per nine innings) since he left New York for Houston back in 2004.
Pettitte is doing a superb job of jumping ahead in the count, throwing a first-pitch strike nearly 68 percent of the time while throwing a nearly even distribution of fastballs, cutters and curveballs in first-pitch counts. But when he gets two strikes on the batter, it's time to break out the slider. Pettitte has tossed his slider nearly half of the time in two-strike counts. He's burying that slider low-and-away to fellow lefties with two strikes, and in on the knees of righties:
Pettitte's slider location with two strikes, 2012
A hanging two-strike slider from Pettitte is about as rare a sight as the Transit of Venus: Just three of his 75 two-strike sliders thrown (four percent) have been located high in the strike zone. While those low sliders are out of the zone, they're close enough that hitters down to their last strike haven't been able to lay off them: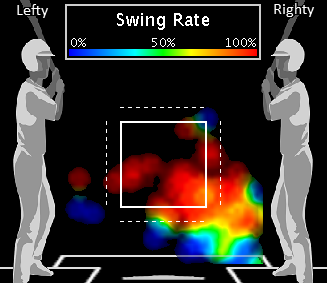 Hitters' swing rate by pitch location vs. Pettitte's two-strike sliders, 2012
Opponents have chased 54 percent of Pettitte's two-strike sliders, well above the 46 percent average for starting pitchers in such situations. And those off-the-plate swings on two-strike sliders are producing precious little contact: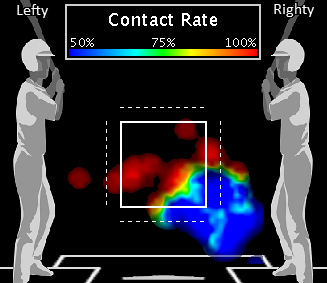 Hitters' contact rate by pitch location vs. Pettitte's two-strike sliders, 2012
Pettitte's slider has a 42 percent miss rate with two strikes (32 percent average for starters), and he has used his slider to record 21 of his 32 Ks this season. That, in turn, has helped him post the tenth-best ERA+ (156) among starters throwing at least 30 innings this season. Not bad for a greybeard who started the spring merely throwing batting practice.
Comments Off
|

Email Article
| |

Permalink
|

Print Article
in

Yankees
|
tagged

Andy Pettitte,

New York Yankees