So far, so very good for Clay Buchholz
Monday, April 15, 2013 at 1:12PM
Bill Chuck in Boston Red Sox, Clay Buchholz, John Farrell
Clay Buchholz may have been 3-1 last April, but he certainly wasn't a good pitcher.
Buchholz had an 8.69 ERA and a 1.897 WHIP. Batters hit .331 against him and he allowed seven homers in five games.
Take a look at why advanced fans of analytics discount the value of wins by pitchers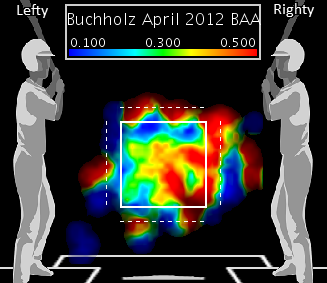 As you can see, there are way too many hotspots reflecting where batters had success against Clay.
But with the return of his mentor, John Farrell, Buchholz is off to a terrific start in 2013.
In his first three starts in 2013, Buchholz is 3-0 with a microscopic 0.41 ERA and a 0.955 WHIP. Batters have hit .149 against him going 11-for-74 and he has allowed just one double and one homer in 22 IP.
His heat chart is a thing of beauty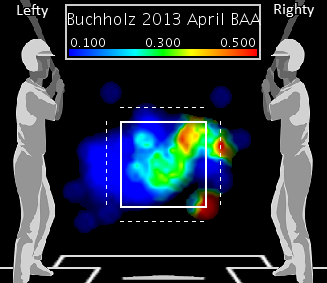 If you are looking for one pitch that is the difference maker
How's this?
In April 2012, Buchholz threw 112 cutters and batters hit .407.
In April 2013, Buchholz has thrown 62 cutters and batters have hit .071.
It may be too early to judge the efficacy of Farrell as a manager of this team, but there is no question, he and pitching Juan Nieves are making a huge impact on the Boston staff.
Article originally appeared on MLB Baseball Analytics (https://baseballanalytics.org/).
See website for complete article licensing information.