Raul Ibanez Destined for Old Dude HR History
Saturday, July 13, 2013 at 4:59PM
David Golebiewski in Mariners, Seattle Mariners, home runs, raul ibanez
When the Seattle Mariners originally drafted Raul Ibanez, Bill Clinton was the sax-playing governor of Arkansas, Sir-Mix-a-Lot's "Baby Got Back" topped the charts and cell phones were bigger than Jose Altuve. Much has changed since 1992, but Ibanez is still slugging. The 41-year-old has already clubbed 24 home runs this season, a mark bested by only Chris Davis, Miguel Cabrera and Carlos Gonzalez among MLB hitters.
Ibanez's power display is impressive for a batter at any age, but it's nearly unprecedented for a guy who's closer to AARP eligibility than the beginning of his career. Even if he cools off in the second half, Ibanez looks primed to break the single-season home run record for a player in his forties:
Highest single-season HR totals for 40+ year-old hitters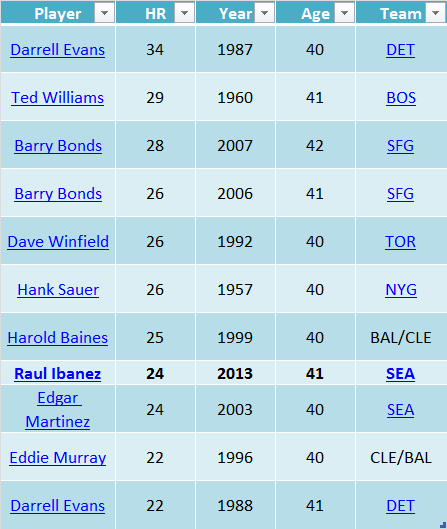 Source: Baseball-Reference.com
Ibanez's plate approach at this advanced stage of his career can be summed up as, "swing hard in case you hit it." Here's a closer look at how Ibanez is on pace for forty-plus homers in his forties.
He's whiffing often...
Ibanez is coming up empty about 26% that he swings, up from 23% last season and well north of the 21% big league average. That, in turn, has led to a career-high 24.3% punch out rate.
But when he connects...
He's ripping the ball down the right field line. Ibanez has pulled about 48% of pitches put in play, compared to 43% in 2012 and the 33% average for left-handed hitters. No one has been more pull-happy than Ibanez, who trails just Domonic Brown among lefties in pull-side homers (18) and ranks seventh in slugging percentage (1.042) on balls hit to right field.
Ibanez's HR in 2013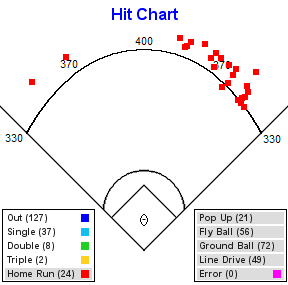 He can still handle the heat, too
While he might lose a foot race to manager and fellow forty-something Eric Wedge, Ibanez has plenty of bat speed left. He has 15 home runs against "hard" pitches, meaning fastballs, cutters and splitters. Ibanez's fresh-faced, flame-throwing victims include Justin Wilson (96 MPH), Garrett Richards and Jarrod Parker (95 MPH).
Article originally appeared on MLB Baseball Analytics (https://baseballanalytics.org/).
See website for complete article licensing information.