How Chris Davis is Crushing the Record Books
Friday, July 5, 2013 at 10:54AM
David Golebiewski in Baltimore Orioles, Brady Anderson, Chris Davis, Orioles, home runs
Chris Davis has crushed a major league-leading 32 home runs already this season, leaving him just one clout shy of matching his 2012 total and putting him in prime position to break the Orioles' single-season home run record, set by Brady Anderson (50 HR) in 1996. Somewhere, Earl Weaver is smiling. How has the Rangers castoff maintained a homer pace that would make him the first batter to go deep 60 times in a season since Barry Bonds and Sammy Sosa in 2001? Here's a breakdown of how Davis is breaking down opposing pitchers.
Davis wastes little time once he's in the batter's box, swinging at far more first-pitch offerings (39%) than the major league average (26%). That aggressive approach is paying off, as he's tied with Miguel Cabrera and Edwin Encarnacion for the most first-pitch homers this season (8).
When he does get behind in the count, Davis is no longer an automatic out -- he has 13 homers in two-strike counts. That leads the majors, and it's not even close (Cabrera is a distant second, with eight HR in two-strike situations). Davis' 13 HR in two-strike counts already tops his ten hit in 2012 and nearly matches his combined total from 2008-11 (14).
Hard stuff, soft stuff -- it matters little to Davis, who's crushing every pitch type known to man. He has 17 homers against fastballs and sinkers, six against sliders, four versus curveballs, three on changeups, and one apiece on a splitter and a knuckleball. Has anyone tried throwing him an eeuphus pitch?
Davis also doesn't seem to care whether he has the platoon advantage, as he's tied with Jay Bruce and Carlos Gonzalez for the most home runs hit by lefty hitters against lefty pitching (seven). That matches his HR output against left-handers in 2012.
Davis has been an all-fields slugger, actually hitting more combined home runs to left field (8) and center (10) than to right field (14). We're barely halfway through the 2013 season, yet Davis has nearly cranked double-digit home runs in every direction. To put that into perspective, the only player with ten or more homers to left, center and right field in 2012 was Cabrera.
Davis' home run spray chart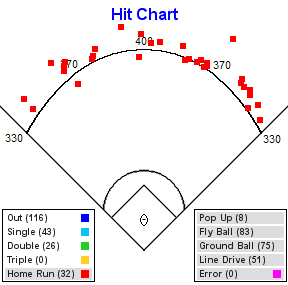 On a related note, Davis has done most of his damage on pitches thrown to the middle (14 HR) or outer third (15 HR) of the plate. If the 6-foot-3, 230 pound behemoth has a weakness, it might be on inside pitches that require him to extend his arms. He has three homers and is slugging .347 on inside stuff, compared to an .829 slugging percentage on middle pitches and a .794 mark on outer-third offerings.
Davis' slugging percentage by pitch location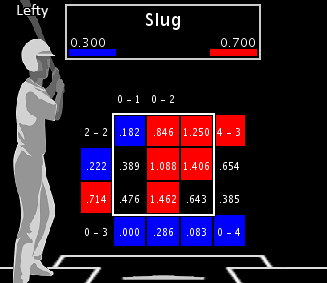 Article originally appeared on MLB Baseball Analytics (https://baseballanalytics.org/).
See website for complete article licensing information.