Hyun-jin Ryu Playing Keep-Away
Monday, August 19, 2013 at 9:01AM
David Golebiewski in Dodgers, Dodgers, Hyun-jin Ryu
Possessing a fastball hovering around 90 MPH on the radar gun, Dodgers lefty Hyun-jin Ryu can't keep up with his mound opponent tonight, Miami's Jose Fernandez. But Ryu (148.1 innings pitched, 122 ERA+) is nonetheless in the running with flame-throwers like Fernandez (139.2 IP, 158 ERA+) and St. Louis' Shelby Miller (127.1 IP, 122 ERA+) for National League Rookie of the Year honors, thanks to his ability to paint the outside corner.
Ryu has thrown the highest percentage of pitches (58.5) to the outer third of the strike zone among starting pitchers, just beating out teammate Zack Greinke (57 percent). Overall, starters are throwing less than half of their pitches (48.1 percent) to the outside corner in 2013.
Whether there's a left-handed or right-handed hitter at the plate, Ryu is playing keep away. He has thrown 61.9 percent of his pitches away to lefties, and 57.3 percent to righties.
Ryu's pitch location vs. lefty batters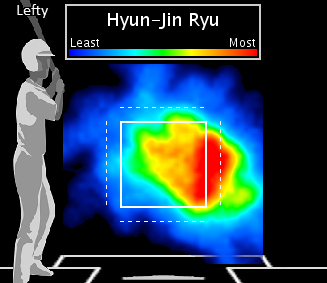 Ryu's pitch location vs. righty batters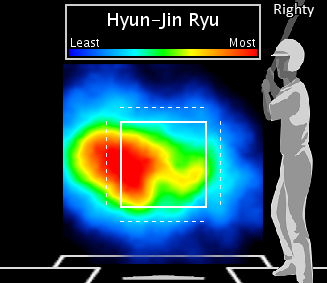 Batters are often beating Ryu's outside pitches into the grass, hitting a ground ball 57.7 percent of the time that they put the ball in play (52 percent MLB average for starters on pitches located away). Ryu's scorched-earth policy has helped him limit opponents to a .310 slugging percentage on pitches thrown away, comfortably below the .335 big league average for starting pitchers.
Hitting the outside corner so frequently also means that Ryu is avoiding the fat part of the plate -- he has thrown just 19.1 percent of his pitches to the horizontal middle of the strike zone, lowest among all starters. Bad things tend to happen when pitchers leave one down Broadway (hitters are slugging .479 against those offerings this season), and that goes for Ryu, too (.471). What Ryu might lack in velocity compared his NL Rookie of the Year competition, he more than makes up for with location.
Article originally appeared on MLB Baseball Analytics (https://baseballanalytics.org/).
See website for complete article licensing information.