Look out at the street.
Look. It is lined with the souls of pitchers from the Far East who failed to live up to the expectations that were placed before them upon their arrival in the US of A.
Their odd windups and magic pitches offered them brief success, but it up and vanished like a feather in the wind.
Pitchers like Hideo Nomo and Daisuke Matsuzaka came over with mountains of hype, pitched well for a couple of seasons, and then drifted to the island of mediocrity for the remainder of their careers.
Yu Darvish arrived from Japan with similar hype.
He arrived with magic pitches.
He arrived with an odd windup.
By this logic, Yu Darvish is your typical Japanese pitching import. But that doesn't mean he still isn't within that window of wowing fans with incredible performances. Performances like the one he had Thursday night for example.
Stellar work from the Whirling Darvish
Even more impressive than his 14 strikeouts on Thursday was that he walked no one during his seven innings of work. This puts him in a category with Randy Johnson and Roger Clemens as the only pitchers to ever have three 14 strikeout/zero walk performances in the same season.
This was a very Yu Darvish performance.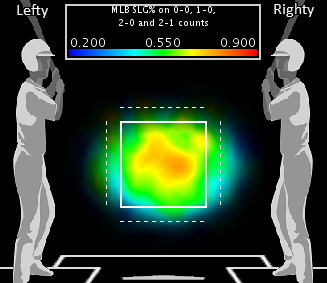 Darvish generated lots of swings and misses (28% swing and miss rate) and lots of bad swings on pitches out of the zone (33.3% chase rate). He relied heavily on both his fastball (He threw 59 fastballs out of the 111 total pitches he threw on Thursday, or, 53.2%) and his slider (44 of 111, 39.6%). Getting seven strikeouts with each pitch.
He throws other pitches, but apparently didn't have much of a feel for them during his bullpen session prior to the game. Or he felt that he only needed the two pitches carve up the Diamondbacks offense. Either way, Darvish has transformed from a pitcher who was known for throwing any of his pitches at will into a fastball/slider pitcher with tricks up his sleeve if he needs them. And this approach was on full display the other night.
Strikeout pitchers are all the rage
Since the start of the 2012 season, 10 pitchers have registered 14 strikeout performances, seven have done it once, two have done it twice. Yu Darvish has done it four times.
Outside of velocity (which Darvish has) strikeouts are the ultimate barometer for how dominant a pitcher is.
Darvish has 186 strikeouts to lead the Major Leagues. And his K/9 of 12.072 is 1.798 better than that of both Max Scherzer and Matt Harvey who have K/9's of 10.274. In fact, if the season were to end today, his K/9 would be the eighth best ever.
The Darvish fun factor
Yu Darvish is one of the funner pitchers to watch in all of baseball. Unless he's facing your favorite team. Then he's no fun at all.
He's still "new" to the league, so there's a chance that his brand of dominance won't last. There's a chance that he will end up like Dice-K. Or, he could end up being the Ichiro Suzuki of Japanese pitchers.
Please Yu, be the pitching Ichiro.