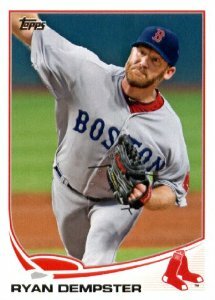 From 2009-13, Ryan Dempster has had one half of one good season.
That's it.
Which is why, Red Sox Nation should not have expected very much from him.
Yet even with these low expectations, they are getting less.
There are only 10 starters with an ERA over 4.50 and WHIP over 1.450
Obviously, this is not great company.
But it wasn't like this last season.
Ryan Dempster started off great for the Cubs last season
Dempster was a Cubs hero last season.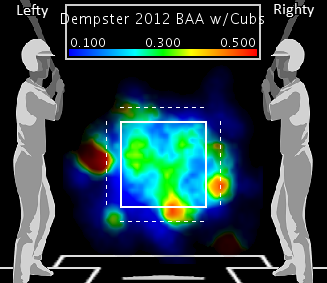 Batters were hitting .210 against him.
His ERA was 2.25 and his WHIP was 1.038.
In 104 innings he allowed nine homers, a rate of 0.78 HR/9.
He was so good that at the trade deadline on July 31, 2012, Dempster was traded by the Chicago Cubs to the Texas Rangers for Christian Villanueva (minors) and Kyle Hendricks (minors).
Briefly, the 23-year old Hendricks this season pitching for Double A Tennessee is 10-3 with a 1.85 ERA and a 1.053 WHIP and Villanueva, playing on the same team, has 14 homers.
The Cubs couldn't ask for anything more.
Unfortunately, the Rangers could
Dempster was 7-3 with Texas after the deal, but there is a reason why more and more people are ignoring W-L records as a measure of pitching efficacy.
Dempster had a 5.09 ERA and a 1.435 WHIP.
So when the Red Sox offered the now 36-year old pitcher a two-year, $26.5M contract, I'm sure the Rangers responded with a hearty handshake.
When he signed with Boston last December, Boston Globe national baseball writer Nick Cafardo wrote:
One National League GM cautioned about Dempster's ability to handle strong AL lineups. He had a 11.20 ERA in three starts against the Angels last season, and he was hit hard by the Yankees and A's.
"If he's your fifth starter you can be a little bit more picky who he pitches against," said the GM. "Obviously, Texas didn't re-sign him feeling he was more suited for the National League. But if you're careful and pick your spots, he'll do a great job. He's a competitor."
Cafardo's source was correct.
Since the deal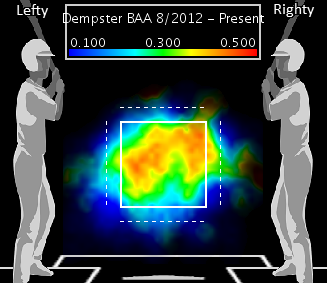 Batters are hitting .265 against him.
His ERA is 4.73 and his WHIP is 1.474.
In 196 innings he has allowed 31 homers, a rate of 1.42 HR/9.
No magic
On a team that has been producing miracle games, there has been no magic for the Red Sox from Dempster.
So as the Red Sox wait for the prodigal son Clay Buchholz to return. And hope that Jon Lester has regained his mojo. And hope that John Lackey has something left in the tank (in his last three starts he has a 5.49 ERA, a 1.475 WHIP, and a .333 BAA). And hope that Felix Doubront continues to thrive (in his last eight starts he's allowed as many as three runs only once). And hope that Jake Peavy has something left in the tank.
In the meantime, Dempster remains in the rotation, probably a littled dinged, but then again we're getting to the time of the season where many pitchers may be hurting.
But in all honesty what you see is what you get from Dempster.
And probably a little less.