There's somethin' happenin' here
What it is ain't exactly clear
There's a man with a bat over there
Tellin' me, I got to beware
I think it's time we stop, children, what's that sound?
Everybody look what's going down
With all due respect to Stephen Stills who wrote For What It's Worth for Buffalo Springfield, led by the bat of Jayson Werth, the Washington Nationals are making an, albeit late, drive for the postseason and everybody should be looking what's going down.
Jayson Werth is an important veteran for this Nationals team and in 2011 and 2012 he was hampered by injuries to both wrists and simply didn't produce at the level that was expected of him when he signed a seven-year $126 million contract with Washington.
This spring, Werth looked like he was finally getting his strength back in the wrist that he broke early in 2012, but in his first 27 games of the season, April 1 to May 2, Werth was a .260/.308/.400 hitter with four homers and 10 RBI.
Not really what manager Davey Johnson was expecting.
Then came the hamstring and the DL
Werth went on the DL with a hammy and he came back on June 4 and was a little rusty.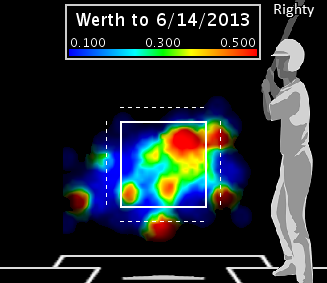 By June 4, his average was down to .244, his OBP was .297, and he was slugging .378.
Unlike
Carl Crawford
in Boston, who struggled with his big contract, new team, high expectations, and low deliverables, Werth blamed neither the fans nor the media.
Werth took on the mantle of leadership in the struggling Nats clubhouse and got to work.
As his health returned, Werth's confidence at the plate began to grow as distinctly as his signature beard.
This is Werth's half-season
From June 15 to September 15, Werth has played in 81 games, exactly half a season.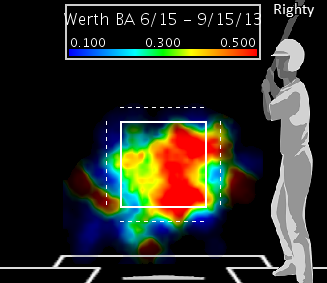 Werth has made a transition
Werth over the years has become more aggressive at the plate. He's not working and and waiting for the walk and while his whiffs are up this season, they are still lower than when he was more passive at the plate.
Don't minimize how much better Werth feels
Physically and psychologically, Werth is doing better. You can see it in the number of flyballs that are flying out of the park and his home run/fly ball percentage and the distance on his homers.
Judge Werth by the company he keeps
Worth's had the third best OPS in the majors since June 15, trailing only MVP candidates
Miguel Cabrera
and
Mike Trout
and leading MVP candidates
Hanley Ramirez
,
Andrew McCutchen
,
Chris Davis
,
Paul Goldschmidt
, and
David Ortiz
.
That is heady company.
The Nationals were a 33-33 team through June 14, and have been 46-37 since.
No it hasn't just been Jayson Werth, but without his resurgence they are making October golf plans
now
.
So, hey children, what's that sound?
It's sound of Werth's cracks off the bat.