David Golebiewski
|

Tuesday, July 5, 2011 at 11:48AM
Jose Bautista has continued his transformation from Rule V wanderer and bench bat to baseball's pre-eminent slugger in 2011, posting a .329/.467/.679 line that looks like something out of Ted Williams' prime. "Joey Bats" remains a prodigious pull hitter who makes opponents pay when they bust him inside. But he has bested his 2010 production by adjusting to pitchers' tendency to throw him stuff on the outside corner of the plate.
Last year, Bautista blasted pitches located inside and down the middle of the plate. He was mortal, though still well above-average, on pitches thrown on the outside corner:
Bautista in 2010
Inside pitches: .667 slugging percentage (.414 league average)
Middle pitches: .772 SLG% (.475 league average)
Outside pitches: .451 SLG% (.331 league average)
In 2011, opponents have seemingly tried to hit that outside corner more often. Slightly over fifty-four percent of the pitches that Bautista has seen this season have been thrown outside, compared to 51 percent in 2010 and the 48 percent league average.
Bautista is still creaming pitches thrown inside (.685 SLG%, .399 league average) and down the middle (.790 SLG%, .465 league average). But he's also doing far more damage when pitchers throw him something on the outside third: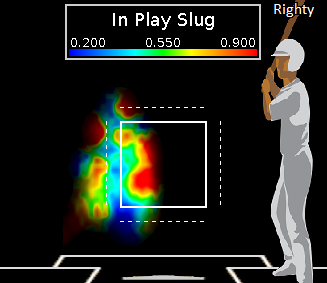 Bautista's in-play slugging percentage on pitches thrown on outer third in 2010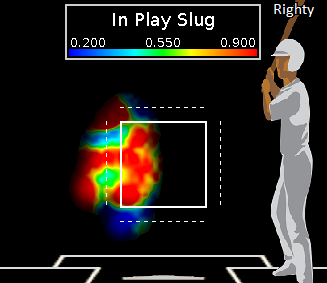 Bautista's in-play slugging percentage on pitches thrown on outer third in 2011
Bautista is slugging .603 on outside pitches in 2011, while the big league average is just .327. Jason Giambi and Laynce Nix are the only batters who have outslugged Bautista on outside offerings.
Inside, middle, outside -- it hasn't mattered this season. Pitchers are getting whacked when Joey Bats pulls the trigger.

Post a Comment
| |

Email Article
|
tagged

Jose Bautista,

Toronto Blue Jays