Jason Shaker
|

Monday, March 4, 2013 at 8:01PM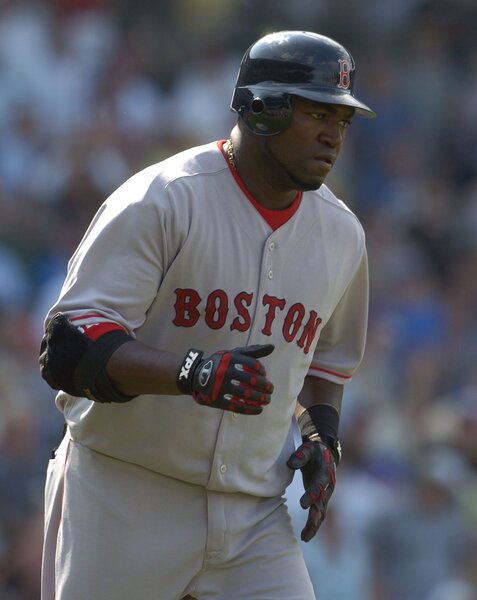 "We'll get to our opinion on David Ortiz in a minute, but first, the facts:
• Ortiz injured his Achilles on July 16 while rounding the bases on an Adrian Gonzalez home run.
• He played once thereafter, but reinjured the same foot while going 2-for-4 on Aug. 24.
• Until last week, he hadn't been able to sprint for six months.
• He tried to run the bases yesterday, but decided against it because of soreness. He'll try again this morning."
Source: BostonHerald.com
Trout takes high road
"To all of Mike Trout's exceptional talents, add this one: political correctness.
A day after Trout's agent fired off a missive in which he said the Angels star was disappointed not only at his contract but at being moved from center field to left, Trout addressed the situation with the careful words of a politician.
"I'm a center fielder, obviously," Trout said Sunday. "My main position is center field, but if you're an outfielder, you should be able to play all three. I think it's going to help me get reads off the bat. It's going to be a fun adjustment for me."
Asked to characterize his feelings on the move, Trout would not bite at the words "angry" or "disappointed."
"I'm just happy to be in the lineup," he said."
Source: OCregister.com
Adrian Beltre makes spring debut
 Adrian Beltre made his spring debut Monday and finished 1-for-3 with a double in the Rangers' 5-4 victory the San Diego Padres.
"I didn't want to make two outs but I feel okay," Beltre said. "Better than I thought."
Beltre reached on a two-base fielding error in his second at-bat and grounded out to short in his final at-bat before leaving the game in the fifth inning. He said he hopes to return to the Rangers lineup when they play the Chicago Cubs on Wednesday.
"Everything went well," manager Ron Washington said. "I think everyone knows Adrian is pretty good, so nothing he does out there at third base surprises me. He looked ready to play."
Source: ESPN.com
R.A Dickey to start vs Mexico
"Team USA gathered on Monday at Salt River Fields for its first practice in anticipation of the World Baseball Classic opener on Friday.
And manager Joe Torre said his starting pitching is aligned for the three Pool D games at Chase Field, with Blue Jays knuckleballer R.A. Dickey tabbed to face rival Mexico on Friday at Chase Field (9 p.m. ET, MLB Network and ESPN Deportes). It's the third edition of the Classic, and the U.S. is trying to win it for the first time. Japan was the victor in 2006 and '09.
Later, after the media conference, Torre acknowledged that Giants right-hander Ryan Vogelsong is slated to start Saturday night against Italy, with Rangers left-hander Derek Holland on the mound Sunday vs. Canada and its bevy of left-hander hitters. Nationals lefty Ross Detwiler is also available to face the Canadians. Torre said Gio Gonzalez, another Nationals left-hander, will be not be available this weekend."
Source: MLB.com
Furcal to be examined
"The next time the Cardinals take the field, Rafael Furcal won't be with them.
After an off-day Tuesday, the Cardinals will resume Grapefruit League play on Wednesday but Furcal is expected to be getting a second opinion on his ailing right elbow that day.
"We'll probably have him see Dr. (James) Andrews on Wednesday," said Cardinals general manager John Mozeliak on Monday evening. Andrews, a noted orthopedist, has offices both in Pensacola, Fla., and in Birmingham, Ala., so the site of Furcal's visit is open although it likely will be Pensacola. Mozeliak said he had worked out most the details with Furcal's agent, Paul Kinzer."
Source: STLtoday.com
Garza could miss first month of season
"Chicago Cubs right-hander Matt Garza experienced tightness in his side while rehabbing and will start the season on the disabled list, manager Dale Sveum said Sunday.
"It's a minor setback that (he) could wind up missing two weeks to a month," he said. "Now you're looking at him getting two (Cactus League) starts at the most."
Garza wasn't too upset, after saying this week he did not plan to rush back just be ready for opening week."
Source: Chicagotribune.com
Kemp says at bat timing "weird"
"Matt Kemp almost had it.
In his fourth at-bat of spring training, Kemp worked deep into the count against Cleveland Indians pitcher Corey Kluber, saw a ball he liked and sent it screaming toward the gap in right-center field.
Roughly 400 feet from home plate, the ball fell into the glove of center fielder Michael Bourn.
It was the best at-bat of the spring for Kemp, who also struck out and grounded out in three plate appearances Sunday.
"My timing's a little weird," he said. "Every at-bat's a step forward."
Source: Dailynews.com

Post a Comment
|

Email Article
| |

Permalink
|

Print Article
tagged

Cubs,

David Ortiz,

Dickey,

Furcal,

Garza,

L.A. Angels,

Los Angeles Dodgers,

Matt Kemp,

Red Sox,

injury,

rangers,

tMike Trout