MLB Heat
|

Tuesday, January 8, 2013 at 9:14AM

Steve Silva () has been at Boston.com since 2004. As Senior Producer Steve covered the Bruins in the Stanley Cup Finals, Patriots in the Super Bowl, Red Sox in the World Series. He has produced countless featured videos including Patriots weekly previews, extensive Red Sox spring training coverage and the live broadcast of Jason Varitek's retirement. Steve was also the co-producer on Boston Sports Live and he edits and produces the award-winning sports pages on Boston.com including features such as biggest busts in Boston Sports. Steve is a BUSY man... Thankfully he had a little time for 3 Up 3 Down...
Baseball Analytics: What are your biggest concerns related to the Red Sox roster in 2013?
Steve Silva: Like everyone else who follows the team, starting pitching is the first thing that comes to mind. Can the ornery Jon Lester bounce back to previous form with his old pitching coach back in town? Same for Clay Buchholz. And will Ryan Dempster be able to handle American League lineups better than he did during his 12 starts in Texas last season.
The improved competition from Toronto and Baltimore in addition to having to fight off old rivals New York and Tampa Bay. It's a crowded house of good-but-not-great teams in the AL East and the Red Sox don't appear to have enough impact bats and consistent arms to rise above the rest.
The bullpen is also a question mark with new closer Joel Hanrahan moving over from the NL and Bailey moving into a setup role… and then there's the enigma of Daniel Bard.
On the offensive side, these aren't Manny Ramirez's Red Sox. It appears Ben Cherington is betting that Shane Victorino and maybe the still unsigned Mike Napoli will bounce back from off years and Jonny Gomes can show some power as a platoon left fielder.
Is Dustin Pedroia on a permanent downswing? When will David Ortiz be 100 percent healthy? Will Jacoby Ellsbury be the injury-riddled version or the near-MVP caliber player in 2013? Right now, there are more questions than answers.
Baseball Analytics: How would you best describe the role Boston Dirt Dogs plays covering Boston's sports teams?
Steve Silva: I'm not sure the website plays any particular "role." It is what it is: a quick hitting page that hopefully will garner a few laughs, provide some timely links to Red Sox and Boston sports related info, some tweets, maybe a cartoon and/or a video. Hopefully there's a headline that would do the New York Post proud and some one-liners that would make Don Rickles even prouder. If you don't have a lot of time, it's a good place to scan what's happening and delivered in a big Wizard of Oz voice, with a snarky edge that made Red Sox fans famous in the first place.
Baseball Analytics: What are your thoughts on Roger Clemens and his first opportunity to be voted into the Hall of Fame?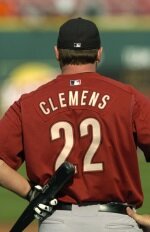 Roger ClemensSteve Silva: Yes, I'd vote The Rocket in. Outside of Pedro Martinez, he was the greatest pitcher of my generation.
And let big game hurlers Curt Schilling, David Wells, and Jack Morris into the HoF club, too.
Despite Rusty Hardin's legal snakery, I believe there was overwhelming evidence that Clemens used performance enhancing substances after he left Boston.
But I have an unconditional soft spot for the prickly old Red Sox ace, having seen him at his best so many times in the 80s and 90s and after seeing him return to Boston last fall for three nights at Fenway, sitting behind Pedro at Johnny Pesky's memorial ceremony in September like he's been here the whole time.
Clemens was on the fast track to Cooperstown before he moved closer to Texas via Toronto in 1997. The guess here is that Roger decided to get even with the cheaters who had begun to gain a huge advantage in the batter's box. So he took measures into Brian McNamee's hands.
But know matter what Clemens got himself into, I just don't view the crimes-he-got-away-with the same way I do the transgressions of Mark McGwire, Barry Bonds, Rafael Palmeiro and Sammy Sosa. Demolishing sacred home run records with the help of steroids just feels much more sinister than a pitcher who is trying to level the playing field again.
So file the Clemens story under: If you can't beat 'em, join 'em.
But it's a sentimental yes for Roger Clemens making it to the Hall of Fame.
You can keep up with Steve Silva by visiting Boston.com or following him on Twitter ().