David Golebiewski
|

Thursday, February 6, 2014 at 6:01AM
Yasiel Puig was a bat-flipping, stop-sign-defying, cutoff-man-missing marvel in 2013. The Dodgers outfielder tied Ted Williams for the second-best park-and-league-adjusted OPS ever for a rookie getting 400-plus plate appearances (60 percent above average), placing just behind Johnny Mize (162 OPS+) and ahead of Albert Pujols (157 OPS+). Here's a scary thought for pitchers and catchers getting set to report for spring training: the 23-year-old is still learning the strike zone, and he's proving to be a quick study. Considering the progress Puig made in tightening his plate approach down the stretch, pitchers shouldn't count on retiring him with junk pitches in 2014. Puig's newfound patience may even earn him the leadoff role in L.A. this year.
When Puig debuted back in June, he displayed the patience of a kindergartener hell-bent on cracking open a Hershey-stuffed pinata. He swung at 38.3 percent of pitches thrown outside of the strike zone, which was far above the 28 percent major league average and second-highest among all National League hitters that month (Alfonso Soriano was first, at 46.6 percent). Puig was particularly hack-happy on pitches thrown inside, chasing 36.2 percent of the time.
Puig's swing rate vs. inside pitches, June of 2013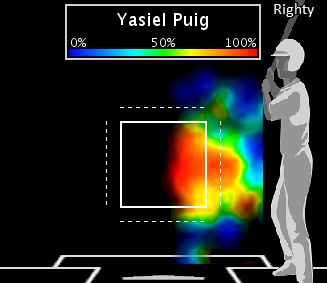 Puig was ridiculously productive in June, of course, as seemingly every ball he put in play evaded leather. He walked in just 3.7 percent of his plate appearances, however -- fine if you're racking up hits like Teddy Ballgame and Ty Cobb, but problematic otherwise. To his credit, Puig quickly began to shrink his eyes-to-ankles strike. He chased fewer inside pitches out of the zone in July, August and September.
Puig's swing rate vs. inside pitches, July of 2013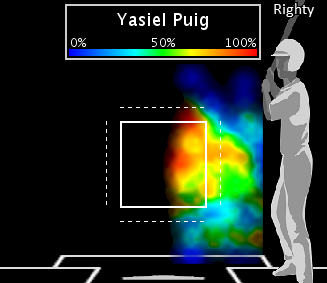 Puig's swing rate vs. inside pitches, August of 2013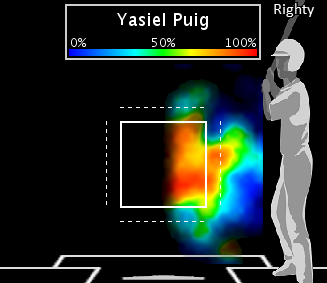 Puig's swing rate vs. inside pitches, September 2013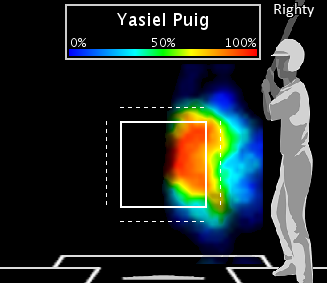 After chasing 36.2 percent of inside stuff in June, Puig went after 32.5 percent of those pitches in July, 26.3 percent in August, and just 22.3 percent in September. That newfound patience is crucial to Puig's long-term success, considering that pitchers try to bust him in on the hands more often (43.7 percent of the time) than any other big league hitter. Overall, Puig's chase rate was close to the league average by the season's final month (30.5 percent in September), and he boasted a double-digit walk rate during in both August and September.
Gifted as he is, Puig might be considered a "disappointment" by some in 2014 because he set such a high bar for himself as a rookie (the Oliver projection system forecasts Puig for a still-excellent .292/.362/.512 line next year, compared to  his actual .319/.391/.534 in 2013). But the gains he made in controlling the strike zone figure to carry over into next year and beyond, as changes in a hitter's swing rate take on meaning after about 50 plate appearances. Combine Puig's light-tower power with a more polished plate approach, and you have the recipe for a perennial MVP contender. If this guy's not getting himself out, who will?

Post a Comment
|

Email Article
| |

Permalink
|

Print Article
in

Dodgers
|
tagged

Los Angeles Dodgers,

Yasiel Puig,

chase rate,

walk rate