Alec Dopp
|

Monday, February 3, 2014 at 9:52AM
Michael Young officially closed the book on his storied 14-year career last Thursday, choosing to "spend time with his family" rather than pursue a free-agent contract with a major league team any further this winter, according to a report by FOX Sports' Ken Rosenthal. The 37-year-old utility infielder had received offers from several teams – including the Dodgers, who were heavily interested in bringing him back after he posted a .314/.321/.392 slash line and 102 OPS+ over 21 games with the franchise to finish out 2013. If he remains retired, Young will own a career slash line of .300/.346/.441 to go with a 102 OPS+ in 1,970 games.
As a young baseball fan who watched ESPN's Baseball Tonight religiously, I remember taking in a lot of Young's big-time hits with the Rangers. Many of those hits featured a common theme: Young's ability to go generate ridiculous power on "inside" pitches -- often taking those pitches to right field with ease.
Here's a perfect example of what I'm referring to. In an at-bat against Seattle's Jason Vargas in 2012, Young took a pitch located on the inner portion of the plate and drove it to right center with a flick of his wrists for a home run. For me, this home run embodies what Young did so exceptionally well during his 14-year career: Dominate the inner-half of the plate. Ironically, this may well be a reason for his retirement.
Diminishing Inner-Half Power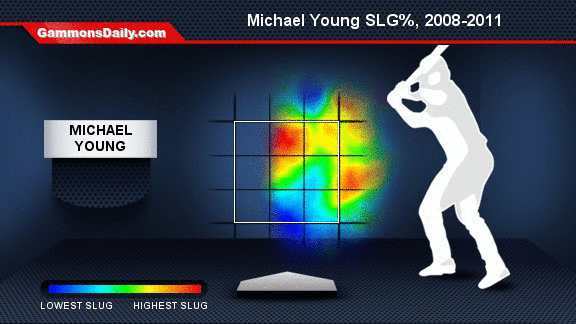 From 2008 to 2011 -- his age 31 through 34 seasons -- Young dominated the inner-half of the plate to the tune of a .345/.374/.544 slash line and .392 weighted on-base average. The driving forces behind those gaudy numbers were his 26.3% line-drive rate (best among batters with at least 1,000 plate appearances in that span) and .401 well-hit average, which was trumped only by Miguel Cabrera (.418) and Albert Pujols (.404) among qualified batters. His best season in this strech was perhaps in 2011, when he led baseball with 213 hits (as a 34-year-old, no less), posted an insane .368/.385/.548 line and mustered up a .428 WHAV against inner-half pitches.
But from that point on, things changed. Young's age 35 season (his last with Texas) in 2012 and last season (where he spent time with Philadelphia and Los Angeles) garnered a still respectable .299/.320/.424 line and .323 wOBA against inner-half stuff, but his line drive rate fell to 23.4% (compared to 26.3% from 2008-2011) and WHAV dropped to .266 -- a decrease of .135 from where it had been previously.
When a hitter's best asset regresses with time, his statistical output tends to follow. In this case, Young's innate ability to place quality contact on inner-half stuff regressed, which was probably a key reason for why he decided to call it quits.

Post a Comment
|

Email Article
| |

Permalink
|

Print Article
tagged

Los Angeles Dodgers,

Michael Young,

Philadelphia Phillies,

Texas Rangers