David Golebiewski
|

Thursday, December 26, 2013 at 6:00AM
With Shin-Soo Choo departing Cincinnati to sign a seven-year, $130 million free agent deal in Texas, the Reds' outfield now features Jay Bruce and two guys who could be offensive black holes next season. Center fielder Billy Hamilton is a blur on the bases, but the slap-and-dash hitter will be lucky not to get the bat knocked out of his hands, much less come close to replacing Choo atop Cincy's lineup. Left fielder Ryan Ludwick, now in his mid-thirties, has to prove yet another career-threatening injury hasn't sapped his power. For a team still intent on battling the St. Louis Cardinals and Pittsburgh Pirates for NL Central supremacy, the Reds have a lot riding on Hamilton's legs and Ludwick's mended shoulder in 2014.
Can Hamilton's wheels make up for all the outs?

In replacing Choo with Billy Hamilton, the Reds will unquestionably lose a ton of offensive value. The more interesting question is, can Hamilton's Ricky Henderson-on-Red Bull speed possibly compensate for his slack bat?
Hamilton had no trouble reaching base in 2012, walking in 14.2 percent of his plate appearances between High-A and Double-A. But he drew a free pass just 6.9 percent of the time at Triple-A last year, as more experienced pitchers attacked the 6-foot, 160 pound singles hitter in the strike zone. Hamilton might eventually learn how to work the count despite his limited power, a la Brett Gardner, but he figures to struggle at the plate in 2014. Two projection systems, Steamer and Oliver, peg Hamilton for an on-base-percentage slightly over .300 and an On-Base-Plus-Slugging-Percentage (OPS) more than 20 percent below the major league average. That kind of offensive futility would put pressure on Hamilton to create runs on the bases and save them in the field like few other fly catchers ever have.
Just 16 outfielders have managed to be at least an average starter (defined here as two Wins Above Replacement) during a season in which they posted a park-and-league-adjusted OPS (OPS+) that was 20 percent or more below the MLB average. To make that many outs and still provide value, these guys had to cover serious ground and create havoc when they did manage to get on base.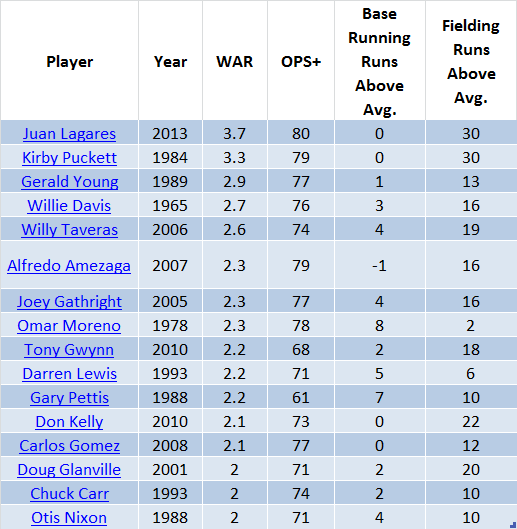 Source: Baseball-Reference.com
In the long run, these players seem to fall into three bins. A few improved dramatically with the bat, becoming stars (Kirby Puckett, Carlos Gomez, Willie Davis). Some used their speed to carve out lengthy careers despite remaining easy outs (Otis Nixon, Gary Pettis, Darren Lewis). Others suffered injuries, crashing and burning once their sole standout skill declined (Willy Taveras, Joey Gathright). Hamilton doesn't possess the latent power of a Pucket or Gomez, so his ceiling appears limited if he doesn't develop top-notch plate discipline.
Hamilton's wheels might just be special enough for him to join the list above. He's a top-tier base thief in terms of both quantity (he averaged 79 steals per season in the minors) and quality (an 82.5 percent success rate, plus a 13-for-14 cameo in the bigs). The converted shortstop is also a natural in center field. Even so, the Reds -- last in leadoff OBP in 2012, and first in 2013 -- could have one of the game's most prolific out-makers setting the table for Joey Votto and Bruce.
Can Ludwick shoulder the load in left field?
Ludwick's career has been defined by devastating injuries and improbable comebacks. The 35-year-old must bend the aging curve once again after a season in which he suffered a dislocated right shoulder and showed Hamiltonian power upon returning to action.
Ludwick's slugging percentage by pitch location, 2012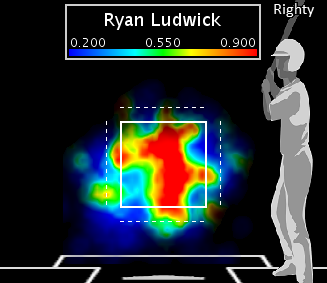 Ludwick's slugging percentage by pitch location, 2013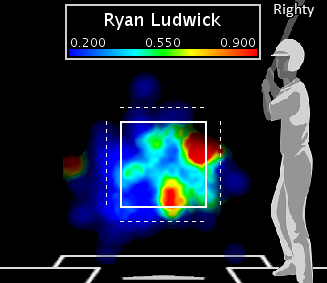 Ludwick wrecked his shoulder on Opening Day sliding head-first on the bases. After undergoing surgery and enduring four months of rehab, he lacked the punch that allowed him to pop 26 home runs and post an OPS that was 30 percent above average the previous season. Ludwick hit just two homers in 140 plate appearances, with an OPS 30 percent below average. It was a small sample, but Ludwick lost nearly 30 feet of distance on his fly balls hit between 2012 (270) and 2013 (244).
Perhaps an off-season of rest and training will allow Ludwick to reach the seats with regularity again in 2014. But that's an awfully big if for a team already punting so much offensive value in center field.
Outside Help
The Reds have committed to Hamilton in center field, so Ludwick looks like the only one who might face competition for a starting spot. Internally, the club's options look bleak. Donald Lutz is a hulking lefty hitter who could platoon with Ludwick, though he didn't exactly excel at Double-A (.741 OPS) and got carved up in the majors (a 1-to-14 walk-to-strikeout ratio). Righty Chris Heisey has declined three years running at the plate. Prospects Yorman Rodriguez and Juan Duran are toosly and on the 40-man roster, but both are hackers who need upper-level ABs in the minors.
At this point, the free agent market for corner outfielders is Chris Sale thin. Nelson Cruz is still available, though the low-OBP slugger with durability concerns and limited range could turn into a handsomely paid Ludwick clone. Tyler Colvin and Laynce Nix are lefty power bats who could partner up with Ludwick, but both are coming off wretched seasons and make Hamilton look like an OBP juggernaut by comparison. Former Reds farmhand Chris Dickerson offers a better eye and some speed, but also questionable durability and contact skills. Grady Sizemore, the Mark Prior of position players, has reportedly recovered from microfracture surgery on his right knee. The last time he played? September 22, 2011.
On the trade front, LA's Andre Ethier still slugs against righties (.854 OPS last year), though he's owed at least $71.5 million through 2017 as he marches toward his mid-thirties. The Cubs' Nate Schierholtz (.799 OPS against right-handers), projected to make $4.4 million during his final year of salary arbitration, could be a more cost-efficient platoon partner.

Post a Comment
|

Email Article
| |

Permalink
|

Print Article
in

Free Agents,

Rangers,

Reds
|
tagged

Billy Hamilton,

Cincinnati Reds,

Ryan Ludwick,

Shin-Soo Choo,

Texas Rangers,

on base percentage,

stolen bases