MLB Heat
|

Thursday, January 10, 2013 at 10:06AM

Ted Dintersmith () has experienced great success in the world of business as both an executive and an investor. Yet, when you speak with Ted he rarely makes any mention of his many accomplishments... In fact it's quite clear Ted's passion for his family, education and baseball is unparalleled. 
Baseball Analytics: Several years ago you spent close to a year traveling around the world with your family in an effort to share baseball with young children. Tell us a little about that trip and what you learned from this experience?
Ted Dintersmith: In 2007-2008, my wife, two children and I spent ten months traveling outside of the U.S. My son loves to play baseball, so we came up with the idea of meeting people in lots of different countries through baseball. We arranged to meet with local programs in Australia, New Zealand, China, India, Bhutan, Thailand, Argentina, Chile, Peru, and South Africa. We shipped baseball equipment to each program (and it was no easy feat getting things through customs) and gave out Red Sox hats (over 750 all told). We saw firsthand how people all over the globe love baseball, and it was a great way to meet people in all of these countries. It was also clear how powerful sports is in bridging cultural divides. If you want to see a short video on our experience, it's at .
Baseball Analytics: If you were the commissioner of Major League Baseball what would your short term and long term mission be?
Ted Dintersmith: In many respects, baseball is in great shape — strong attendance, league-wide parity, and real progress on the steroids front. But I feel that sports franchises and players have an opportunity, and an obligation, to have a more positive impact on their community, especially their young fans. I'm excited about models that enable a player or team to capitalize on the passion of their fans, getting them engaged in important causes. For instance, I'm on the Advisory Board of a great organization in Providence called N.B.A. Math Hoops, that teaches young kids math by tying it to basketball. So if I were MLB's Commissioner, I'd sponsor programs tying baseball to school offerings. This off-season, I'm working with a National League player on a program to encourage young fans to be social entrepreneurs to help on a cause near and dear to the player and his family, and think this program has the potential to redefine sports philanthropy. I would hope that historians would look at my time as Commissioner and say, "Lots of great baseball games were played when he was Commissioner, but his real contribution was figuring out a way for the sport to have a profound impact on people's lives beyond what happens at the ballpark."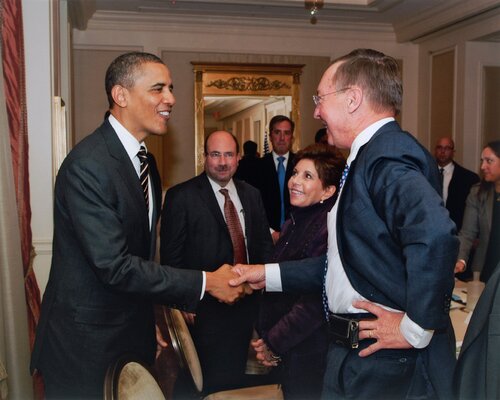 Ted Dintersmith with President Barack Obama.Baseball Analytics: Can baseball play a role in solving of the world's larger social, economic and political challenges?
Ted Dintersmith: Baseball, along with other sports, could play a huge role in addressing some of the world's challenges. For reasons I'll never understand, our country has spent trillions of dollars on wars in Iraq and Afghanistan. Our mission was, in theory, to promote world peace. Instead, we bankrupted our country, and only made the world more unstable. I sure wish we had spent a fraction of this money to provide kids with education resources and sports equipment.
Okay... we admit it... we asked Ted four questions. Since we enjoyed all four answers we are going to post the fourth question and answer. Our first ever 4 Up 4 Down.
Baseball Analytics: You walk through the turnstile at Fenway Park; what's your first thought and what's your first destination in the park?
Ted Dintersmith: My baseball buddy for games is my son, and my first thought at Fenway is about our going to a game in 2002 on a gorgeous Fenway Family Day and seeing Derek Lowe pitch a no-hitter — and hoping today's game will bring another amazing memory. We always show up at the park before the gates open, and immediately head inside the stadium, where he checks out who is signing autographs. I usually go to our seats, and read from my iPad, while he chases down autographs. Sometime before the game, we check out Autograph Alley. And the highlight of most games for me is the seeing who throws the Ceremonial First Pitch, since their stories are so inspiring.

Post a Comment
|

Email Article
| |

Permalink