David Golebiewski
|

Tuesday, November 26, 2013 at 1:01PM
The Ian Kinsler-Prince Fielder mega deal clears the way for Jurickson Profar to take over the keystone spot in Texas. The switch-hitter from Curacao, still a few months shy of his 21st birthday, ranked as the top prospect in the game according to both Baseball America and MLB.com prior to the 2013 season, showcasing plate discipline (a career .367 on-base percentage in the minors) and power (.449 slugging percentage) beyond his years at a premium position on the diamond.
Profar's tools and polish didn't immediately translate to the majors, however. The trendy preseason pick for American League Rookie of the Year posted a park-and-league-adjusted OPS that was 24 percent below average, ranking 20th out of 24 newcomers logging at least 300 plate appearances. Profar's struggles against curveballs and sliders are a major reason why he was outhit by fellow rookie middle infielders like Brad Miller, Jose Iglesias, Anthony Rendon, Nick Franklin and Didi Gregoroius. To start doing damage versus breaking stuff, the uber-patient Profar will first have to take the bat off his shoulder.
Profar did an excellent job of taking curves and sliders thrown outside of the strike zone, chasing those pitches less than half as often (14.3 percent) as the major league average (30.8 percent). Unfortunately, his "just looking, thanks" approach extended to breaking balls thrown over the heart of the plate.
Profar's swing rate by pitch location vs. curveballs and sliders, 2013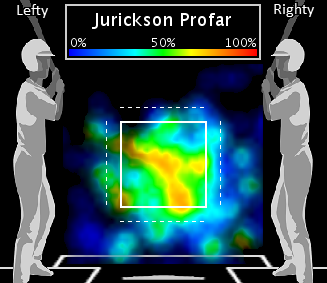 He swung at a mere 54.3 percent of curves and sliders thrown within the strike zone, well below the 61.6 percent major league average. Profar was particularly gun-shy when a pitcher missed his target: He swung at 47.4 percent of breaking stuff thrown to the middle of the plate. Typically, pitchers pay the price when they throw belt-high curveballs and sliders (hitters slugged a collective .459 last year). Against Profar, however, those mistakes still produced strikes.
By taking juicy curves and sliders so often, Profar rarely made loud contact when he did decide to swing. He slugged just .256 versus breaking pitches, nearly 80 points below the MLB average, and hit a grounder 68.2 percent of the time he put the ball in play.
Despite Profar's rough introduction to the big leagues, Rangers fans shouldn't despair. Other young middle infielders eventually became stars after flailing at the plate as rookies, including Hall of Famer Robin Yount (79 OPS+ as a teenager in 1974), Gary Sheffield (82 OPS+ at age 20 in 1989) and Alan Trammell (89 OPS+ as a 20-year-old in 1978). And, like Trammell, Profar has the defensive chops to play an up-the-middle position throughout his career (he'd be a standout at shortstop if not for the presence of Elvis Andrus).
Many rookies must learn to tone down their plate approach, limiting overzealous swings at junk pitches thrown in the dirt. But in Profar's case, he needs to be more aggressive. When pitchers hang a breaking ball over the middle of the dish, he has to make them pay.

Post a Comment
|

Email Article
| |

Permalink
|

Print Article
in

Rangers,

Tigers
|
tagged

Detroit Tigers,

Ian Kinsler,

Jurickson Profar,

Prince Fielder,

Texas Rangers,

second base,

trade