David Golebiewski
|

Wednesday, January 29, 2014 at 6:00AM
Since he clubbed his way to the majors in 2007, Mark Reynolds has been a one-tool player. He's got an iron glove, costing his team more runs (76) compared to an average defender than every infielder not named Michael Young, Yuniesky Betancourt or Derek Jeter. And his D looks pretty good compared to his contact skills: Reynolds has struck out 1,276 times, second-most among hitters since '07 (Adam Dunn is first). But Reynolds' one tool -- pure, unadulterated pull power -- is special enough for teams to hold their noses and focus on his epic blasts.
Or, at least it used to be. Reynolds' home run total has dipped from 37 in 2011 to 23 in 2012 and 21 this past season, with his slugging percentage tumbling by nearly 100 points (.483 in '11, .429 in '12, and .393 in '13). Considering how often he punches out, Reynolds needs to maul the ball when he does connect. With elite power, he's a pretty good hitter (his park-and-league adjusted on-base-plus-slugging percentage was 16 percent above average in 2011). With average pop, he's a liability (his OPS was four percent below average in 2013).
The 30-year-old recently signed a minor league deal with the Brewers, though he's expected to make the opening day roster either as the club's primary first baseman or the short half of a platoon with Juan Francisco. Granted, even a diminished Reynolds would be better than the balsa wood-toting brigade that Milwaukee featured at the position last season (a combined .370 slugging percentage). But if he plans on giving Bernie Brewer a workout on Miller Park's homer slide, he'll have to reverse a three-year decline against inner-half pitches.
Reynolds' slugging percentage vs. inner-half pitches, 2011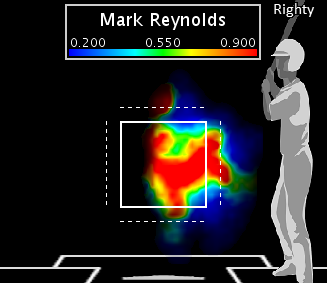 Reynolds' slugging percentage vs. inner-half pitches, 2012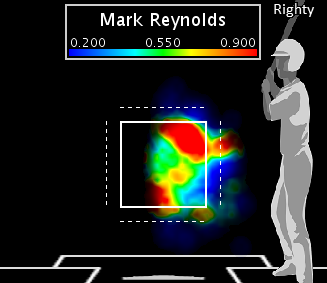 Reynolds' slugging percentage vs. inner-half pitches, 2013
Reynolds was a beast versus pitches thrown to the inner half of the plate in 2011, posting the eighth-best slugging percentage (.659) among qualified batters. But that figure declined to .575 in 2012, and just .398 this past season. Here's another way of looking at it: Reynolds crushed inside pitches like Jose Bautista and David Ortiz back in '11. In 2013, though? He barely outslugged waterbug shortstops Elvis Andrus and Erick Aybar.
Reynolds simply doesn't have the sort of well-rounded skill set that allows him to hit for good-not-great power. He's either jacking 30-plus homers, or he's riding the bus in Triple-A. Short of a return to elite slugger status, he could be looking at a succession of minor league deals in the years to come.

Post a Comment
|

Email Article
| |

Permalink
|

Print Article
in

Brewers,

Free Agent Signings
|
tagged

Baltimore Orioles,

Milwaukee Brewers,

New York Yankees,

home runs,

mark reynolds,

strikeouts