David Golebiewski
|

Tuesday, January 7, 2014 at 6:00AM
Mike Mussina seems like the type of pitcher whose brilliance may get lost in the translation between traditional, back-of-the-baseball-card stats and sabermetrics. He falls thirty wins shy of the revered 300 club, and his career ERA (3.68) is way above that of the average Hall of Fame inductee (2.96). Some voters will take a cursory look at Mussina's candidacy and dismiss him as a good, but hardly dominant pitcher. Former Hall of Fame research associate and Cooperstown swami Bill Deane projects that Mussina will receive just seven percent of the vote -- precariously close to the five percent minimum required to stay on the ballot the following year.
But Mussina's bubble gum card stats ignore context -- the long-time Oriole and Yankee pitched in a high-scoring era, against lineups filled with sluggers in the cut-throat AL East division. Once you adjust for park factors and the go-go run-scoring environment of the 90s and early 2000s, Mussina easily clears the bar for enshrinement. His adjusted ERA is 23 percent above average, which ranks 13th all-time among starting pitchers logging at least 3,500 innings pitched. With 82.7 career Wins Above Replacement, Moose trumps the average Hall of Famer (69 WAR) and resides in the same neighborhood as Fergie Jenkins (82.7 WAR) and Bob Gibson (81.9 WAR).
Mussina managed to vanquish AL East hitters up until the end, recording one of his finest seasons in 2008 at age 39. He topped 200 innings and had a 131 ERA+, good for sixth among AL starters. Talk about finishing strong -- Mussina had the highest WAR total (5.2) among starters during his final major league season this side of Sandy Koufax (who had to retire at 30 due to a bum elbow) and Win Mercer (who committed suicide at age 28).
Highest WAR totals for SP in last MLB season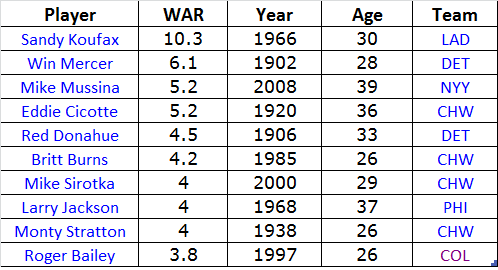 Source: Baseball-Reference.com
So, how did Mussina turn in arguably the finest season ever for a pitcher voluntarily calling it quits? He was the best in the game at freezing hitters in two-strike counts. Moose got the most strikeouts looking in the majors in 2008:
Called third strike leaders among starters, 2008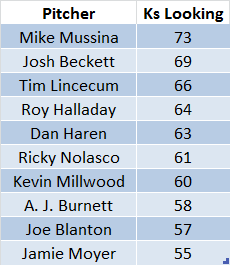 Mussina got the vast majority of those looking Ks with his fastball (36) and slider (20), and most of them (56 percent) came on pitches thrown just outside of the rule book-defined strike zone:
Location of Mussina's called third strikes, 2008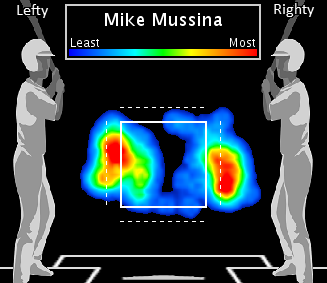 Hopefully, Hall of Fame voters study Mussina's pitching as thoroughly as these batters did. This guy deserves a plaque in Cooperstown.
in

Hall of Fame,

Orioles,

Yankees
|
tagged

Baltimore Orioles,

Hall of Fame,

Mike Mussina,

New York Yankees,

called strikeout