Alec Dopp
|

Wednesday, February 19, 2014 at 10:00AM
B.J. Upton would be the first to tell you: He wasn't very good last season.
In his first year donning the Tomahawk, the now 29-year-old posted career lows in batting average (.184), on-base percentage (.268), slugging percentage (.289) and OPS+ (53) en route to a -1.8 offensive WAR (another career-low digit), according to Baseball Reference. He also struck out at a career-high rate (33.9%), stole fewer bases (12) than in any of his 100-plus game seasons prior and again couldn't stay healthy, missing a good chunk of the season with a groin injury.
While Upton has never been one to maintain a high average (.248 career BA), lofty power numbers (.409 SLG%, 100 OPS+) or tremendous plate discipline figures (26% strikeout rate, 10.5% walk rate), his offensive regressions last season are concerning. After all, the Braves paid Upton a healthy $12.5 million last season to be less valuable (-1.8 bWAR) than a replacement-level player and are on the hook to shell out roughly $15 million on average over the next four seasons to the former Tampa Bay Rays top prospect.
Exactly what caused Upton's offensive setback last season? As in most cases, many things contributed. But there was one thing that smart pitchers picked up on: Upton's struggles with the outer-half of the plate.
Comparing Upton's Contact Rates over the Last Three Seasons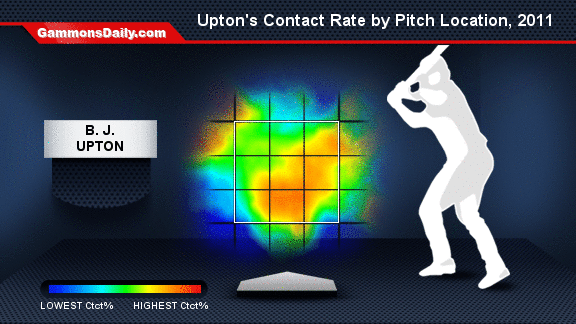 Upton's offensive regressions have stemmed mainly from his inability to put bat on ball. In 2011, his overall contact rate stood at 76.7%, fell to 70.6% the following season and plummeted to 66.9% last season with Atlanta, which was the third lowest among batters with at least 400 plate appearances, trumped only by Pedro Alvarez (66.1%) and Chris Carter (65.4%), according to FanGraphs.
Three seasons ago, he was able to place contact on just about any pitch in the strike zone -- boasting a 84% in-zone contact rate, which was just a shade under his career-high mark of 86.8% set in 2006. But over the last two seasons, his contact rate has faded almost exclusively to the inner-half of the plate. This has affected his ability to put outer-half offerings in play, posting a feeble 29.6% in-play rate on such pitches last season, which was fourth-worst among batters with 250 plate appearances. Knowing this, pitchers threw 49.4% of their offerings 'away' from Upton last season -- an increase from 45.6% in 2012.
Word on the street is that Upton showed up to Braves camp this past weekend with an improved swing that's eliminated unnecessary pre-swing movement. "He's a lot more efficient," Braves hitting coach Greg Walker told David O'Brien of the Atlanta Journal Constitution. For Upton's sake, I hope he's right, because pitchers are beginning to recognize and attack his most glaring weakness -- the outer-half of the plate -- which has transformed him from former five-tool prospect to liability for Atlanta offensively.
tagged

Atlanta Braves,

B.J. Upton,

Chris Carter,

Pedro Alvarez