David Golebiewski
|

Thursday, January 23, 2014 at 6:00AM
With the help of Indians infield coach Mike Sarbaugh, Carlos Santana is fielding grounders aplenty this offseason in hopes shifting to third base at least part-time in 2014. Santana's newfound interest in the hot corner has much to do with the emergence of Yan Gomes, who will get most of the starts behind the plate after showcasing a power bat and pitch-framing skills last year. But Santana's attempted conversion also speaks volumes about how far Lonnie Chisenhall's stock has fallen within the Indians' organization. If the 25-year-old can't tone down his hyper-aggressive hitting style, it's going to cost him his job.
Cleveland's first-round pick in the 2008 draft, Chisenhall has been carved up by major league pitching. He has struck out more than four times as often (132) as he has walked (32) in 682 career plate appearances, earning a demotion back to Triple-A each of the past three seasons. From 2011-13, Chisenhall had the third-lowest on-base-percentage (.284) of any third baseman logging at least 600 plate appearances. The only players manning the position who had more trouble avoiding outs were Casey McGehee (who played in Japan last year to re-establish value and signed a minor league deal with Miami this offseason) and Brandon Inge (released in 2013 after getting on base at a .204 clip). That's not the sort of company that a former top-25 prospect wants to keep.
Chisenhall's on-base woes are due in large part to his inability to lay off "soft" stuff -- curveballs, sliders and changeups. The lefty batter has chased 46 percent of soft pitches thrown outside of the strike zone, obliterating (in a bad way) the 32 percent major league average over the past three seasons. He's especially jumpy against breaking and off-speed stuff tossed low and away
Chisenhall's swing rate by pitch location versus soft pitches, 2011-13
MLB average swing rate by pitch location for lefty hitters versus soft pitches, 2011-13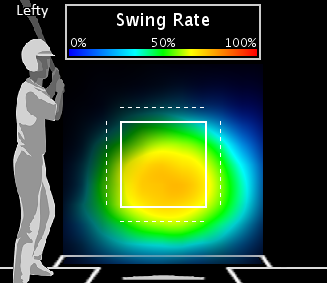 Some batters can still rake while routinely chasing soft stuff out of the strike zone, as Adam Jones (49.2 percent chase rate from 2011-13), Pablo Sandoval (48.8 percent) and Chris Davis (48.3) show. Chisenhall has not proven to be one of those skilled hackers. He's hitting .224 (24-for-107) when he swings at a curve, slider or changeup thrown off the plate, with one homer.
Should Santana prove capable of at least faking it at third base, a la Miggy Cabrera, he could make Chisenhall a platoon player (the switch-hitting Santana has a career .855 OPS against lefties, compared to .612 for Chisenhall). That could end up being the best-case scenario for Cleveland's hoped-for franchise third baseman if he doesn't tighten his strike zone.

Post a Comment
|

Email Article
| |

Permalink
|

Print Article
in

Indians,

third base
|
tagged

Carlos Santana,

Cleveland Indians,

Lonnie Chisenhall,

Third Base,

Yan Gomes