Jonathan Scippa
|

Wednesday, October 12, 2011 at 1:10PM
Ryan Braun leads all 2011 Postseason participants with 13 hits. His .624 weighted on base average also leads the postseason along with his 25 total bases.  Braun has gone deep twice, one behind six players tied for first, and his two doubles put him in a tie for first with Albert Pujols.
Taking a look at how he's been pitched to so far, it's no surprise he's doing so well at the plate.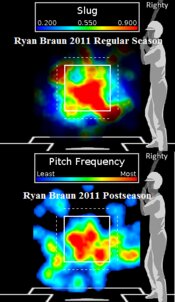 In the regular season, Braun did a lot of damage on balls over the middle of the plate, not surprisingly. But he also killed pitches down in the strike zone, as well as down and in at the knees.  So far in this postseason, pitchers have basically thrown to those locations.
The areas Braun had any difficulty with were pitches up and away and pitches inside.  However, as the heat map indicates, pitchers haven't thrown to those areas much.  In fact, they really haven't thrown Braun much of anything up in the zone at all.
If opposing pitchers continue to throw to Braun's strengths, don't expect his offensive output to slow any time soon.

Post a Comment
| |

Email Article
|
in

Batters,

Hitting,

PitchFX,

Playoffs,

outfielders
|
tagged

Milwaukee Brewers,

NLCS,

Ryan Braun,

St. Louis Cardinals,

Starting pitching,

pitchfx,

playoffs