Michael Hllywa
|

Friday, July 12, 2013 at 11:02PM
The Josh Hamilton story need not be repeated here. Eventually the movie that is being directed by Casey Affleck will come out, and we can all relive Josh's harrowing experience as he climbed from the gutters of drug addiction to the highest peaks of baseball stardom. What can be repeated, is that in December of last year, there was more than a quiet buzz on Katella Ave. in the city of Anaheim. After Arte Moreno had gone and had one of the most expensive free-agent shopping sprees ever prior to the 2012 season with the signings of Albert Pujols and C.J. Wilson, he went and did it again. 
Luxury tax be damned. Payroll be damned. Signing a player on the wrong side of 30...again...damn.
Welcome to the Angels
After having a solid spring training, when nothing mattered at all, Hamilton stormed out of the gates in April to the tune of a .204/.252/.296 slash line. It was the only month in Hamilton's career that he has ever had an OPS under .600. May was better OPS-wise, as he put up .237/.315/.495 slash line, good for an .810 OPS. But then he cratered again in June with a .231/.284/.396 line.
This was going to be a long season.
Even eternally optimistic fans were starting to dread not just this season, but the four years left on that $125MM deal. 
With brown paper sacks in hand, Halo fans prepared for the absolute worst.
But then, Josh hurt his wrist during an aggressive hitting drill during a late-June series against the Pirates. He sat out the series. Upon coming back in the next series against the Tigers, he got a hit in his first game back.
Then another one in the next game.
Then another. 
Before you knew it, 12 games later, Hamilton had a nice little hitting streak going ending the other night in Chicago, but then he followed that up with two home runs in the following game.
It's only two weeks into July, but currently, he is sporting a .290/.353/.710 line. A line that, in some ways, is very similar to the .344/.405/.781 month of May that Josh had in 2012.
Did I lose you with that connection?
Yeah, I thought so. It's a pretty big leap to join those two months together. 
May 2012 and July 2013
Josh hit 12 home runs last May (he has 14 in all of 2013).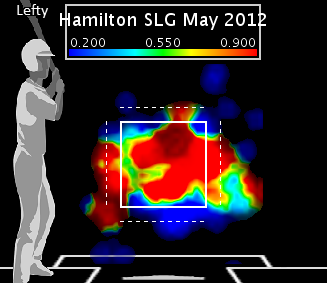 Yeah, that is a ton of red. It is also a lot of space that is being taken up pitches being swung at. 
Last May, Josh swung at an astounding 57.7% of pitches thrown his way. Yet he still managed to strike out in less than 20% of his plate appearances (barely, 19.8%) and walked in more than 10% of his plate appearances (again, barely with a 10.8 BB%). How? I don't know. If you had thrown the rosin bag towards the plate, he would have swung. It was just one of those months.
But this is where Josh's recent surge over the last two weeks actually looks better than the one he had last May.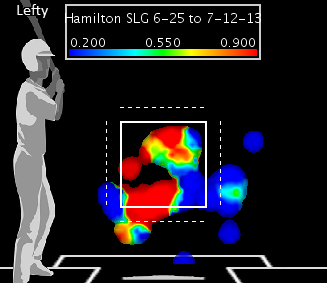 Josh's upper cut-type swing is made for pitches low in the zone. And he has done a good job of going after those pitches so far this month. But what has made July 2013 nearly as good as May 2012, is not how much or how hard he is hitting the ball, but rather, how much he is not swinging at the ball.
If you go by the last two weeks, instead of "just games played within the month of July," Josh has a well-above-what-Angels-fans-have-come-to-expect, 13% walk rate. By adding in those last few days in June (which was a three-game series against the Astros), Hamilton's slash line explodes. If you recall, his July line is .290/.353/.710, add in those three games and it is .333/.435/.744.
An identical ISO (Isolated Slugging) of .410 for both time frames, and a better walk rate so far this month. Angels fans have been waiting for this kind of outburst from Hamilton, and now that it is happening, they are afraid to breathe on it for fear of it vanishing like a whisper in the breeze.
The month is only half over, and there is also that silly All-Star break next week that could have who-knows-what kind of effect on the run that Hamilton is currently on. But for the time being, Angels fans have put away the head covers, and are donning their team swag. Even bringing their Josh Hamilton jerseys out of the closet for some sunlight.
Of course, now that I have written something about Josh's streak, he'll more than likely turn back into a pumpkin, and slump through the rest of the season.
But what if he doesn't?
As awful as the the Angels have played, they are only 6.5 games back in the wild card race and that's nothing when you have a hot Josh Hamilton. 

Post a Comment
|

Email Article
| |

Permalink
|

Print Article
in

Angels,

Lefties,

Offense,

analysis
|
tagged

ISO,

Josh Hamilton,

Los Angeles Angels,

offense,

streaking,

walk rate