Michael Hllywa
|

Friday, July 12, 2013 at 6:46PM
Earlier this week, Bill Shanks wrote an article. Which is nothing new. Shanks is a columnist for The Macon Telegraph. He writes articles on a regular basis. It's his job. It's what he does. The article, Statheads see a different game" was in response to the response he got to this article, "Heyward following Francoeur's career path" in which he dubs Jason Heyward the new Jeff Francoeur. Which is a really quick way to ruffle up the feathers of both Atlanta Braves fans and statistics-minded fans alike. 

Note #1: Do not ruffle the feathers of a statistics-minded fan. They are smart, snarky and generally lack any sort of brain-to-mouth filter

Note #2: The first "Note" can also be read as "disclaimer."

Of course, what I could do here is systematically take apart and tear down his tering down of "Statheads." It wouldn't be too difficult with hidden gems like this.
I did the unthinkable -- criticized a player adored by statheads, those who prefer to look at the game with a more analytical view instead of just enjoying the game of baseball.
Or this:
Statheads only respect people who watch the game the way they do, with a slide rule and more stats with acronyms than you can ever imagine. They even make up their own stats, mainly so they can fully make their argument about what they believe about a particular player.
Or the classic go to line for every anti-stats columnist:
Stats are fine, to a point. I like seeing what a player's batting average is, how many home runs and RBI he has and can even stomach seeing what the on-base percentage is.
But I'm not going to do that.
Taking the high road
I prefer to take the high road in these types of situations. I am not going to resort to the kind of name calling that the close-minded Bill Shanks has already engaged in. In fact, I'm going to agree with him.
To a point.
One particular point. 

That point would be the one that he made about Heyward being nearly useless against left-handed pitching.

Because, he is.

Heyward currently has a career slash line against lefties of .223/.302/.363. Which is bad. His walk rate is four points lower against lefties than it is against righties (7.4% to 11.5%) this season. A similar difference resides in his career marks of 9.5% against lefties to 12% against righties. And his walk rate is what is championed within the sabermetric community.

But I ask of you this: What good is an above-average walk rate, when your OBP is 12 points below the league average?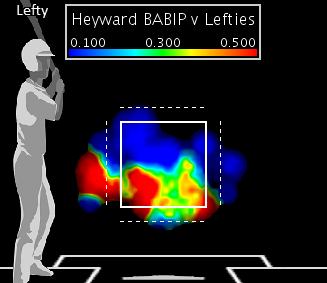 Some say that Jason Heyward is unlucky. Pointing to his .256 BABIP as their proof. These same people may want to look at each of Heyward's four seasons seperately then, and come to the conclusion that he is simply inconsistent. Posting BABIP's of .335, .260, .319 and now .256. An inconsistent corner outfielder is not the kind of player that you build a winning franchise around. It is cherry-picking at it's best when you claim a player is unlucky but fail to mention that his swing rates are well above his rookie year numbers (2013 - 43.6%, 2010 - 38.6%).

Jason Heyward is still only 23 years old, and just because Jeff Francoeur was busting by then, doesn't mean that you give up on a young kid because recent history within the franchise says you should.
Manny Machado is only 20 years old. Who knows what he will be like in three years.
But Braves fans - and stats lovers - should look hard and long at the stats that they are using to build up Heyward. Because, if I were Heyward's manager, I would have started platooning him yesterday. 

Post a Comment
|

Email Article
| |

Permalink
|

Print Article
in

Braves,

Walks
|
tagged

BABIP,

Jason Heyward,

high walk rate