Alec Dopp
|

Thursday, February 6, 2014 at 10:47AM
Craig Kimbrel got the short end of the monetary stick this week when the Atlanta Braves elected to sign Freddie Freeman and Jason Heyward to contract extensions. Just six years into a 20-year local TV contract that has and will assuredly limit the team's cash assets for the foreseeable future, the organization has been put in a difficult financial situation this offseason, and these limitations have manifested through not being able to sign players to long-term deals, such as Kimbrel.
In a perfect world, the Braves would extend each of their three budding superstars. But we don't live in a perfect world, which meant Atlanta essentially had to decide whether Heyward or Kimbrel was more valuable for the organization moving forward (since Freeman seemed a near guarantee to get his extension after a career-best 5.4 bWAR 2013 campaign). With three consecutive 40-plus save seasons and a 1.48 ERA that ranks best among pitchers with 200 innings since 2011, one could certainly make the argument that Kimbrel deserved to get paid -- not Heyward, who owns an underwhelming career line of .259/.352/.443.
But for as dominant as Kimbrel has been since his rookie 2011 season, he actually regressed in several areas in 2013, which more than likely had a big say in Atlanta's decision not to extend him.
Craig Kimbrel
|   | AVG | wOBA | K/BB | Zone% | Miss% | Chas% | ClStk% | InPl% |
| --- | --- | --- | --- | --- | --- | --- | --- | --- |
| 2012 | .126 | .170 | 8.29 | 52.9% | 41.6% | 34.1% | 40.9% | 21.0% |
| 2013 | .166 | .222 | 4.90 | 50.5% | 32.5% | 30.7% | 34.0% | 28.7% |
Across the board -- both in terms of opponents' weighted on-base average against him and in "miss-ability" of his offerings -- Kimbrel's stuff depreciated significantly. And while it seems silly to expect anyone to consistently perform at a level he did in 2012 (where he posted a 1.01 ERA, league-best 0.65 WHIP and 16.6 strikeouts per nine innings en route to a 3.3 bWAR), regressions such as these shouldn't go unnoticed. Of course, now the question becomes: Why did he take a step back last season?
Erractic Release Point
Kimbrel's Release Point Frequency, 2012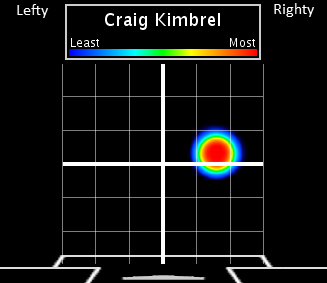 Kimbrel's Release Point Frequency, 2013
As a true two-pitch reliever (fastball and slider), deception is of the utmost importance for Kimbrel, whose gaudy strikeout numbers have been more of product of his ability to generate swings-and-misses (accounting for 89% of his career strikeouts), rather than called strikes (11%) in order to punch out batters. While wacky deliveries and varying arm slots can be deceptive, Kimbrel's traditional 3/4 arm slot makes vital the repetition of his release points between fastball and slider, as a more limited arsenal makes pitch recognition easier for batters if release points aren't consistent.
Surely enough, this was Kimbrel's downfall last season. Take a look at the first image shown above, which depicts the release point frequency of Kimbrel's offerings two seasons ago. Looks to be very consistent, no? Now take a gander at the bottom image, showing his release point frequency in 2013. While the red and yellow areas of his release points remain nearly identical as two seasons ago, his overall release points were much less defined.
Evidently, batters picked up on this lack of consistency and capitalized off it, increasing their in-play rate against his stuff by 7.7% over the last two seasons while generating a .222 wOBA against him, up from .170 in 2012. What's more, Kimbrel's inconsistent release point caused opponents to swing at roughly 5% less, chase at 4% less and swing-and-miss nearly 10% less in 2013 than two seasons ago.
For Kimbrel, deception is the name of the game. Last season, he didn't have it (as much), which is probably a main reason why Atlanta chose to extend Heyward over him.

2 Comments
|

Email Article
| |

Permalink
|

Print Article
tagged

Atlanta Braves,

Craig Kimbrel,

Jason Heyward