David Golebiewski
|

Monday, July 22, 2013 at 9:00AM
With apologies to Justin Verlander, Detroit has a new ace. Max Scherzer has taken the great leap forward that both scouts and statheads have long prophesized, establishing new full-season bests in ERA+ (133) and strikeout-to-walk ratio (4.90). The 28-year-old righty with one blue eye and one green eye had been a totally different pitcher depending upon which side of the plate the hitter toed, dominating same-handed batters but getting pummeled by left-handers. That has changed during Scherzer's breakout season, as he has cut his opponent slugging percentage against lefties from .465 in 2012 to .357 in 2013.
How has Max become practically platoon-proof? Here's a closer look at what he's doing diferently against lefties this season.
Scherzer is throwing fewer fastballs (65% in '12, 57% in '13) and sliders (9% in '12, 5% in '13), relying more upon his changeup (26% in '12, 29% in '13) and a newly implemented curveball (thrown 8% of the time). Scherzer's curve has been particularly effective -- hitters are 4 for 23 (.174) against the pitch, with just one extra-base hit. Perhaps Max's less predictable mix has helped his fastball play up. Lefties are slugging .356 versus Scherzer's fastball this year, down from .480 in 2012. For comparison's sake, lefty hitters are slugging .431 against righy starters this season.
He's getting ahead of lefties from the get-go, boosting his first-pitch strike rate from 57% in 2012 to 61% in 2013. The MLB average for right-handed starters against lefty hitters is 58%.
Scherzer is challenging lefties more often, increasing his rate of pitches thrown in the strike zone from 43.7% to 45.4% (46.7% average for righty starters against lefties). The difference is more pronounced on the first pitch of the at-bat (Scherzer threw 48.4% of his first-pitch offerings to lefties over the plate in 2012, and 52.5% in 2013).
He's not getting squeezed as much against lefties this year. In 2012, Scherzer got a called strike on a pitch thrown in the strike zone and taken by the batter just 72% of the time (the average for righty starters versus lefty batters is about 81%). This year, his called strike rate on in-zone pitches is 79%. In particular, Scherzer is getting more credit for in-zone pitches thrown high and away.
Scherzer's called strike rate on in-zone pitches versus lefty batters, 2012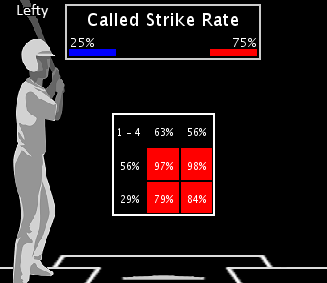 Scherzer's called strike rate on in-zone pitches versus lefty batters, 2013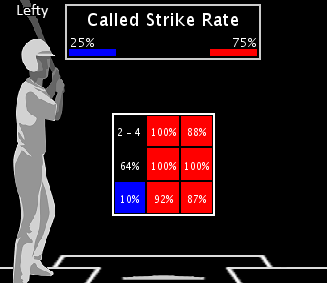 Post a Comment
|

Email Article
| |

Permalink
|

Print Article
in

Tigers
|
tagged

Detroit Tigers,

Max Scherzer,

left handed,

platoon splits