David Golebiewski
|

Wednesday, October 12, 2011 at 9:22AM
Doug Fister pitched the Tigers into the win column in the ALCS last night, surrendering two runs in 7.1 innings while striking out three and walking none. The former Mariner got 73 strikes in 102 pitches (72 percent), but he didn't do it by flooding the zone with strikes. Rather, he baited Rangers batters with fastballs off the plate.
Fister threw his fastball three-quarters of the time against Texas. Manager Jim Leyland praised Fister's approach: "In and out, moving the ball around, moving the ball both sides of the plate." Facing a lineup with seven right-handed hitters, the NBA-sized righty mostly pitched inside but did hit the outside corner to keep 'em honest: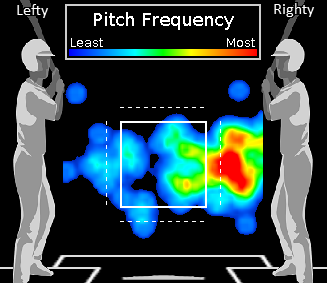 Location of Fister's fastball vs. Texas, 10/11/2011
Seventy percent of Fister's fastballs were thrown inside, 21 percent were tossed outside and just nine percent caught the middle part of the plate. Rangers batters got very few cookies, and they couldn't really back off the plate to better handle those inside pitches with Fister also working the outside corner at times.
You'll note that most of those fastballs were thrown out of the zone. In fact, just one-third of Fister's fastballs were over the plate. But Texas hitters couldn't lay off, chasing 32 of 51 out-of-zone heaters (63 percent). That's nothing new for Fister, though: he leads all MLB starters in fastball chase percentage this season.
While he's not a power pitcher, the former non-prospect has improved his fastball velocity considerably -- he sat at 91 mph Tuesday and hit 93 -- while still featuring lots of movement. On average, Fister's fastball tailed in on righties by about 10 inches compared to a pitch thrown without spin. The average for righty fastballs is slightly more than half of that.
Combining average velocity with that much movement makes Fister's fastball a plus offering. Opponents have slugged just .319 against the pitch this season, the lowest clip among qualified MLB starters.
With each passing start, the six-player swap that brought Fister (under team control through 2015) to Detroit in July looks like even more of a masterstroke. Armed with a darting fastball that has climbed from the high-80s, Fister is no novelty act. He's just one of the best starters in the DH league.

Post a Comment
| |

Email Article
|
tagged

Detroit Tigers,

Doug Fister