David Golebiewski
|

Tuesday, January 21, 2014 at 6:00AM
Everyone knows that Andrelton Simmons can pick it. The Atlanta Braves shortstop and 2013 Gold Glove Award winner, possesing range that makes trotting out a third baseman optional and gun-you-out-from-the-seat-of-his-pants arm strength, has saved more runs through his first two major league seasons (60) than any player in history, according to Baseball-Reference. But don't sell Simmons' bat short, either -- the 24-year-old excelled offensively during the second half of the 2013 season, crushing fastballs with a more polished plate approach. Is he about to emerge as a two-way terror?
Simmons fit the all-gove, no-hit archetype during the first half, batting just .243 while getting on base at a .282 clip and slugging .348. That's lousy, even by banjo-strumming standards of the position (shortstops batted a collective .254/.308/.372 last year). After the All-Star break, however, Simmons morphed into a slugger (.255/.316/.472). His Isolated Power (slugging percentage minus batting average) more than doubled, from .105 to .217, and he hit fly balls over 20 feet farther on average (240 before the break, 262 after). As the season progressed, the potential heir to Ozzie Smith as the game's greatest defensive shortstop started lashing fastballs into the gaps and over the fence.
Simmons' slugging percentage vs. fastballs before the All-Star break, 2013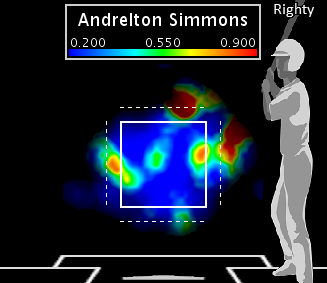 Simmons' slugging percentage vs. fastballs after the All-Star break, 2013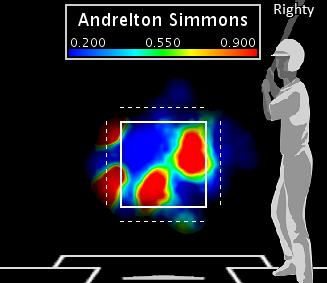 Simmons slugged a paltry .309 versus fastballs during the first half, which was 120 points below the MLB average and fifth lowest among qualified batters. But after the Midsummer Classic, he boosted that mark by nearly 200 points (.508 slugging percentage). A better grasp of the strike zone played a part in Simmons' improvement: he swung at 64.6 percent of fastballs thrown over the plate in the second half, up from 60.1 percent before the break and above the 64 percent big league average. That change benefited him in two ways: he fell behind in the count less often by taking fewer called strikes, and he took a cut on the sort of pitches that hitters tend to pummel (MLB batters slugged .502 when swinging at fastballs thrown in the strike zone in 2013).
As a junior college product who was originally drafted as a pitcher and barely took 1,000 trips to the plate in the minors, Simmons might just be scratching the surface of his offensive abilities. His Baseball-Reference comps through age 23 indicate that potential for two-way stardom, with Barry Larkin featuring prominently on the list. It's easy to forget that the first-ballot Hall of Famer actually scuffled offensively during his first two years in Cincinnati (81 OPS+ in 1986-87) before evolving into one of the better hitting shortstops in recent memory (116 career OPS+). J.J. Hardy isn't as sexy a name, but he has been quite valuable by playing vacuum cleaner D and routinely clearing the fences.
With sublime, perhaps even unprecedented defensive skill, Simmons merely needs to avoid being an automatic out at the plate to be one of the more valuable shortstops in the game. But if even a portion of his second-half gains carry over into 2014 and beyond, Atlanta could have its first MVP since Chipper Jones 15 years ago.

Post a Comment
|

Email Article
| |

Permalink
|

Print Article
in

Braves,

fastballs,

shortstops
|
tagged

Andrelton Simmons,

Atlanta Braves,

Barry Larkin,

Fastballs,

Gold Glove,

J.J. Hardy,

Ozzie Smith,

Shawon Dunston,

offense