Bill Baer
|

Wednesday, October 20, 2010 at 11:22AM
Phillies fans are well aware of Raul Ibanez's struggles at the dish during the 2010 post-season. In 25 plate appearances, the left fielder has a triple-slash line of .130/.200/.174. During the regular season, he set a career-low in wOBA among the seasons in which he was a regular starter (since 2002), at .341.
These struggles come after a torrid first half of the 2009 season when he had an OPS of 1.015 and seemed to be on his way to some MVP votes. However, during the second half, he fizzled, OPSing only .774. A good portion of his troubles are likely explained by his left groin strain that sidelined him for 23 days from June 18 to July 11. Since that injury, Ibanez simply has not been the same.
Having watched Ibanez in his time as a Phillie, I have noticed his problems with fastballs. At 38 years old, it seems like his bat speed has been in decline and thus has been rather helpless trying to make solid contact on fastballs. The following images show his in-play slugging percentage on fastballs, the first showing data from April 5 to June 13, 2009 and the second showing everything since.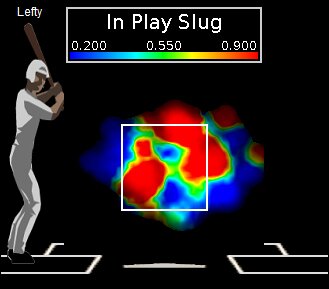 Ibanez's in-play slug on fastballs, 4/5/09 to 6/13/09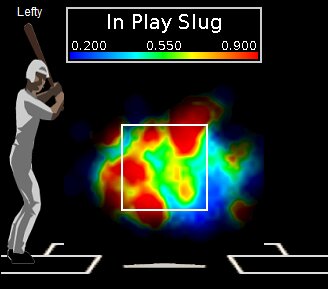 Ibanez's in-play slug on fastballs since 6/14/09
Ibanez has become more of a low-and-inside fastball hitter, a typical area for left-handed hitters. He no longer dominates as much area towards the high and outside part of the plate.
Even worse, Ibanez has also become much less effective against "soft" pitches. Using the same time periods as above: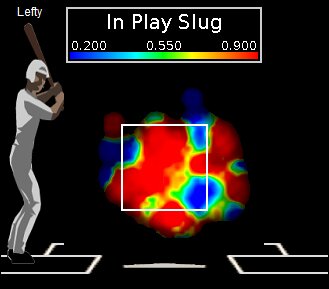 Ibanez's in-play slug on "soft" pitches, 4/5/09 to 6/13/09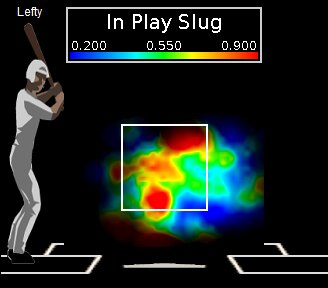 Ibanez's in-play slug on fastballs, since 6/14/09
Given the sample size of the first image, there is obviously going to be some regression to the mean, but overall, Ibanez's recognition of soft stuff has rapidly declined. Additionally, his coverage of the outside part of the plate has been reduced to one small area high and outside but inside the strike zone.
On my blog, I suggested that Phillies manager Charlie Manuel should, at the very least, use Ben Francisco as a defensive replacement in left field late in games. However, this analysis leads me to believe that an outright lineup change in Game Four of the NLCS is imperative, since the Giants will be using left-hander Madison Bumgarner. Ibanez, who performs worse against lefties than Francisco, has been on a precipitous decline. It would behoove the Phillies to admit this before it is too late.

2 Comments
| |

Email Article
|
in

Batters,

NLCS
|
tagged

NLCS,

ben francisco,

phillies,

raul ibanez