David Golebiewski
|

Friday, July 22, 2011 at 1:45PM
Is the Dodgers' Clayton Kershaw the best starting pitcher in baseball? If not, he's in the discussion. The 23-year-old left-hander has taken yet another step forward this season, increasing his strikeout rate, issuing fewer free passes and posting a 2.39 fielding independent ERA (FIP) that's bested by that of only Roy Halladay. Kershaw is enjoying his best season yet by shutting down right-handed hitters, and he's doing it with a wicked, platoon-proof slider.
Kershaw has long been death on fellow lefties, but his numbers against opposite-handed hitters have improved dramatically
Kershaw versus right-handed hitters:
2008: 1.71 strikeout-to-walk ratio, .269 batting average/.349 on-base percentage/.393 slugging percentage
2009: 1.41 K/BB ratio, .208/.325/.291
2010: 2.13 K/BB ratio, .218/.301/.298
2011: 4.52 K/BB ratio, .221/.271/.316
Basically, Kershaw is turning every righty hitter that he faces into the 2011 version of Alex Rios. Those righties are hitting his fastball pretty well, with a .314/.368/.432 line against the pitch that's well above the .273/.351/.431 average for righty batters versus lefty fastballs. But Kershaw's slider is another story.
Kershaw is using his slider against righ-handers 22 percent of the time this year, compared to 19 percent in 2010, five percent in 2009 and less than one percent in 2008. Righties just plain can't make contact with the pitch.
First, here's the average contact rate for right-handed hitters against left-handed sliders: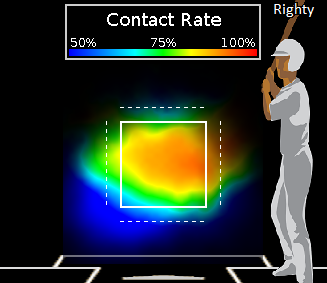 Now, here's the contact rate for righties against Kershaw's slider: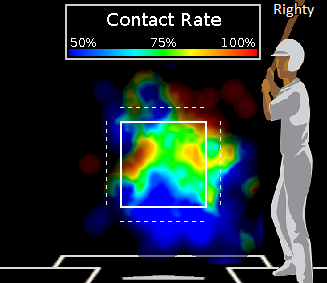 Right-handers have missed 41 percent of the time that they have pulled the trigger on a Kershaw slider, compared to the 28 percent average for righty hitters versus lefty sliders.
What makes Kershaw's slider so remarkable is that it's a killer pitch against batters swinging from both sides of the plate. Overall, sliders have one of the largest platoon splits of any pitch, with opposite-handed hitters faring much better against the offering. In 2011, left-handed pitchers have a .183/.212/.258 line against left-handed hitters when throwing a slider. Right-handed batters have a .207/.255/.326 slash against lefty sliders. But Kershaw's slider? Lefties are hitting .130/.167/.196, and righties have an even worse .087/.120/.173 line.
Most pitchers can't shut down opposite-handed batters with the slider, but Kershaw seems to be the exception to the rule. His increased use of that hard breaker and subsequent improvement against right-handers puts Kershaw in the same class as the Halladays, Lees and Lincecums of the world.
Comments Off
|

Email Article
| |

Permalink
|

Print Article
in

Pitchers
|
tagged

Clayton Kershaw,

Los Angeles Dodgers