David Golebiewski
|

Thursday, January 5, 2012 at 3:08PM
Theo Epstein and Jed Hoyer accomplished two goals on Thursday by sending Carlos Zambrano on the next flight out of town and adding cost-controlled pitching depth, picking up Chris Volstad from the Marlins. Volstad, 25, has three years of arbitration eligibility remaining and could end up being a quality mid-to-back-of-the rotation arm. The towering righty actually had a better Fielding Independent ERA than Zambrano last year (4.32 to Z's 4.59), though Volstad's ERA was over a half-run higher due to a whopping 15.5 of fly balls he gave up leaving the park.
Considering Chicago's bleak hopes of contention in 2012 and the dearth of pitching at the upper levels of the minors, adding Volstad is a nice upside play. But if the 2005 first-rounder is ever going to more than a passable rotation piece, he will need to stop being so predictable -- and hittable -- against left-handers.
Over the last three years, Volstad has allowed fellow right-handers to hit .278/.333/.411. That is by no means great (the average for righty starters versus righty batters is .258/.314/.409 over that time frame), but it looks stellar compared to his work against left-handers. Portside hitters have violated Volstad for a .284/.345/.492 line since '09 (.268/.335/.427 average for righty starters versus lefty hitters).
Volstad mixes up his pitches against lefties, tossing four-seamers (about 30 percent of the time), sinkers (30 percent), changeups (23 percent), curveballs (13 percent) and sliders (four percent). The problem is, everything he throws is on the outside corner. Look at his pitch location against opposite-handed hitters, compared to the average for right-handed starters to lefties: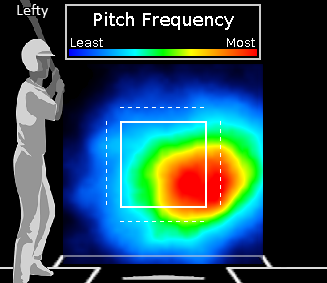 Volstad's pitch location to left-handed hitters, 2009-2011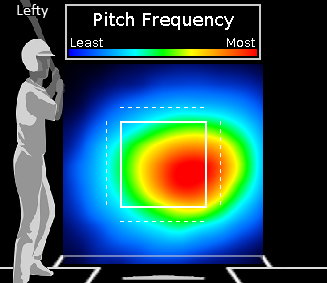 Average pitch location for right-handed starters to left-handed hitters, 2009-2011Most righties pitch lefty hitters outside, but Volstad takes it to another level. Volstad has thrown 60 percent of his pitches on the outside corner to lefties (53 percent average for righty starters versus lefty hitters), while going inside just 18 percent of the time (24 percent average).
Lefty hitters seem well aware of Volstad's outer-third approach. Check out their swing rate by location against Volstad's pitches, and then the average swing rate by location for lefty hitters against righty starters: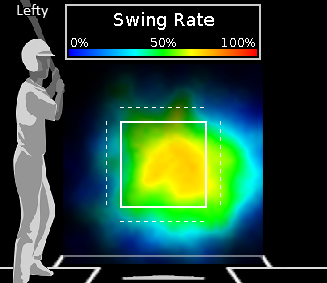 Left-handed hitters' swing rate by pitch location vs. Volstad, 2009-2011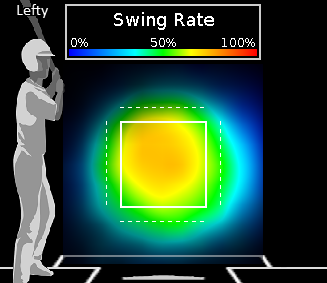 Average swing rate by pitch location for left-handed hitters vs. right-handed starters, 2009-2011
Lefties have swung at slightly more than 43 percent of Volstad's pitches thrown on the outer third over the past three seasons, well above the 39 percent average. With few inside pitches, lefty hitters are waiting for those outer-third pitches and then racking up extra-base hits.
Volstad is young, fairly inexpensive (MLBTradeRumors' Matt Swartz projects he'll earn $2.6 million in arbitration) and does a good job of limiting walks and getting ground balls. That is an appealing package for a team starved for talent on the right side of 30. But right now, left-handed hitters have no reason to worry about getting pitches in on the hands and are taking advantage of Volstad's predictable outside strategy. Maybe pitching coach Chris Bosio can help him develop a cutter to keep lefties honest.

Email Article
|
tagged

Chicago Cubs,

Chris Volstad
|