David Golebiewski
|

Wednesday, August 21, 2013 at 11:17AM
The Chicago Cubs committed at least $41 million and potentially up to $73 million in Anthony Rizzo this past May, ensuring the 24-year-old would slug his way to the upper echelon of first basemen at Wrigley Field. At least, that was the plan. While he hasn't totally collapsed like fellow franchise cornerstone Starlin Castro, Rizzo has stalled out instead out breaking out.
Rizzo established himself as an extension-worthy hitter in 2012 after Chicago acquired him from San Diego for Andrew Cashner in a rare young player challenge trade, posting an on-base-plus-slugging percentage that was 17 percent above average (117 OPS+) once adjusting for league and park factors. This year, Rizzo's 103 OPS+ tops that of just Lyle Overbay and Mitch Moreland (99 OPS+) among first basemen qualified for the batting title.
To stop getting heat from fans, the media and his manager, Rizzo has to start crushing heat at the plate. The Cubs' would-be bopper isn't making loud contact against fastballs this season, manager Dale Sveum told ESPN Chicago's Jon Greenberg:
"An every-day player gets 600 at-bats, averaging one major [fastball about groin-high] an at-bat; that's four a day," Sveum said. "What you do with those four balls that you can drive out of the ballpark dictates your whole day. The difference is the guys that are the elite center about three or four of those. What centering is, I don't care if they pop it up to the catcher, it's on the four inches of the barrel."
Sveum's right -- Rizzo isn't centering fastballs like he did last season. While Rizzo is hitting more fastballs in the air in 2013 (42 percent of balls put in play) than in 2012 (36 percent), many of those fly balls are of the can-of-corn variety. Last year, Rizzo drove fastballs an average of 277 feet when he hit one skyward, above the 270 foot MLB average and the same distance as Nelson Cruz and Carlos Gonzalez. In 2013, Rizzo's fly ball distance on fastballs has dropped to 254 feet -- about the same average distance as Michael Brantley and Brett Gardner.
It's hard to say why the 6-foot-3, 240 pound Rizzo is hitting fastballs more like a top-of-the-lineup water bug. He's swinging at fewer heaters thrown out of the strike zone (his chase rate has declined from about 29 percent in 2012 to 21 percent in 2013), and he's actually pulling fastballs more often (28 percent of balls put in play in 2012, 30 percent in 2013). Whatever the cause, Rizzo's 20-plus foot drop in fastball fly ball distance has contributed to a near 150-point fall in his fastball slugging percentage.
Rizzo slugged .532 versus fastballs in 2012, easily besting the MLB average (.433). In 2013, however, he's slugging just .383 when pitchers challenge him. The difference is especially glaring on low pitches: he slugged .571 against stuff thrown at the knees in 2012, but a mere .226 in 2013.
Rizzo's fastball slugging percentage by pitch location, 2012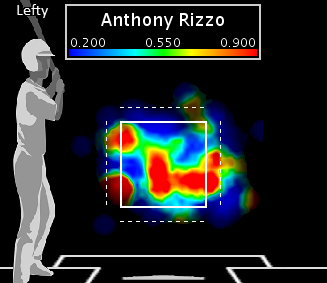 Rizzo's fastball slugging percentage by pitch location, 2013
Rizzo's fastball woes apparently come as a surprise to the hitter himself. "Look at my numbers," Rizzo told ESPN Chicago's Greenberg. "My fastball numbers are the best there are." Hopefully, Rizzo can start taking out his frustration on those heaters. Right now, his numbers aren't the best there are -- they're merely better than Lyle Overbay's.

Post a Comment
|

Email Article
| |

Permalink
|

Print Article
in

cubs
|
tagged

Anthony Rizzo,

Chicago Cubs,

Fastballs