Alec Dopp
|

Thursday, October 17, 2013 at 11:35AM
By now you may have realized Cardinals closer Trevor Rosenthal is one of the hardest-throwing relievers in baseball, and this observation is an accurate one. Pumping out heaters at 96.4 MPH on average -- second-highest among relievers with at least 74 innings -- in 2013 to go with a max fastball velocity of 101.4, the 23-year-old Cowley County Community College product has a clear knack for dialing up his fastball whenever he so chooses.
But what you may not have realized is how dominating the offering has been for Rosenthal, especially in the postseason.
Over 12 career postseason relief appearances dating back to his playoff debut in 2012, Rosenthal's heater has held opponents to a .119/.178/.167 slash line, including an absurd strikeout total of 21 to go with just 3 walks. Throwing the pitch 88.2 percent of the time, this has obviously been the primary reason behind his not allowing a run -- earned or unearned -- to cross home over 14.2 career postseason innings.
In TBS's broadcast Tuesday night, the network's own Cal Ripken, Jr. pointed out that batters tend to struggle against Rosenthal's fastball when located in the upper half of the zone. Here, it is more difficult to adjust the plane of the bat to the ball compared to the bottom half where it is easier for hitters to simply "drop the bat head" on the pitch.
The evidence suggests Cal is correct (no surprises there).
Opponents' In-Play Rate vs. Rosenthal's fastball in postseason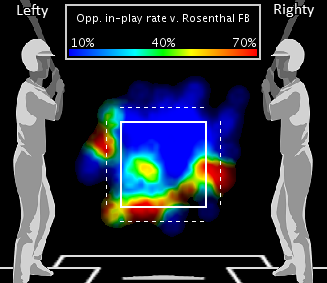 The image above validates Ripken's premise, and the numbers are startling. Opponents have placed just 8.7 percent of Rosenthal's fastballs in play when he's located the offering in the upper half of the zone. When placed in the lower half, batters have garnered a 40.5 percent in-play rate in the postseason.
Video/Mechanical Synopsis
What's truly impressive about the way in which Rosenthal has dominated with his fastball in the postseason is that he's thrown it nearly nine times out of ten. One would presume batters take this into account when they're batting against him and adjust their strategy at the plate to reflect that.
But clearly they've either a.) failed to look over their scouting reports or b.) simply can't touch Rosenthal's heater, regardless of whether or not they've looked over those reports.
Andre Ethier's plate appearance at the end of game two shows what I'm getting at.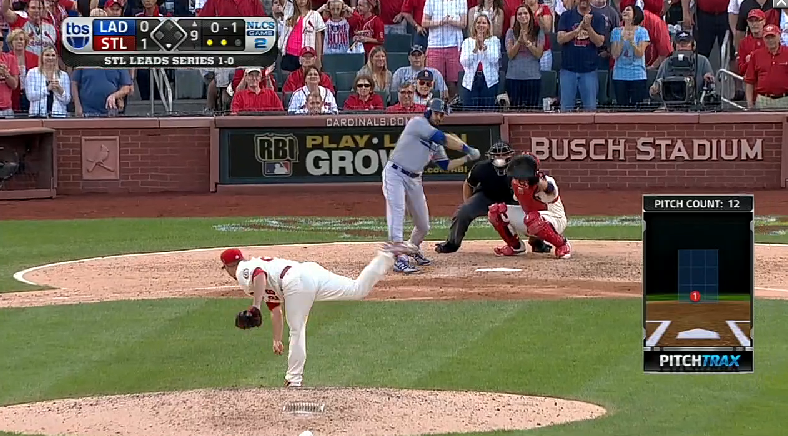 After whiffing at a 98 MPH heater in the first pitch of the at-bat, Ethier should have a good sense of when to begin his pre-swing load on subsequent fastballs later in the plate appearance. But such was not the case, as he whiffed in the pitch shown above (and swung and missed on the pitch after that, which was another fastball clocked at 98 MPH) and was noticeably behind on the offering.
What's remarkable about this pitch, in particular, is how far behind Ethier is in his swing progression when Rosenthal's fastball crosses the plate. Ethier's hands are extended to where they should be, but the bat head is obviously no where to be found because Rosenthal's fastball -- for whatever reason -- catches him off guard.
Clearly, opponents will need to start adjusting by beginning their pre-swing loads sooner. This could open up their vulnerability against Rosenthal's offspeed stuff, of course, but they cannot continue to let their bat heads drag against his heater. So far it's been one of the key reasons behind St. Louis' dominance this October.

Post a Comment
|

Email Article
| |

Permalink
|

Print Article
tagged

Andre Either,

Los Angeles Dodgers,

St. Louis Cardinals,

trevor rosenthal