David Golebiewski
|

Monday, July 29, 2013 at 8:00AM
(All stats through Friday's games)
The injury-ravaged New York Yankees have hit the fewest right-handed home runs (24) in the majors this season, and they rank just 25th in on-base percentage (.306). Well, the Bombers at least addressed one of those issues by throwing lots of cash ($17.7 million of the $24.5 million he's owed through 2014) at the Cubs to acquire Alfonso Soriano. The 37-year-old is still slugging, but he's drawing walks at his lowest clip in over a decade and is well on his way to making power-hitting, out-making history.
Soriano, who began his career in pinstripes from 1999-2003, has clubbed 17 home runs this season. That's now second best in the clubhouse, behind Robinson Cano's 21. But Soriano has also drawn just 15 free passes. While he has always been a free swinger, Soriano's walk rate (3.9% of his plate appearances) is his lowest since 2002 and his .284 on-base percentage is a career low.
If Soriano keeps going deep (he's on pace for 27 homers) and drawing walks at this pace, he'll join an infamous list of high-slugging, low-OBP hitters that includes the likes of Dave Kingman, Joe Pepitone and teammate Vernon Wells. Should Soriano hit 25 homers while remaining such a prodigious out-maker, he'll post one of the 20 lowest on-base percentages ever among hitters reaching that big fly milestone.
Lowest OBP during 25+ home run season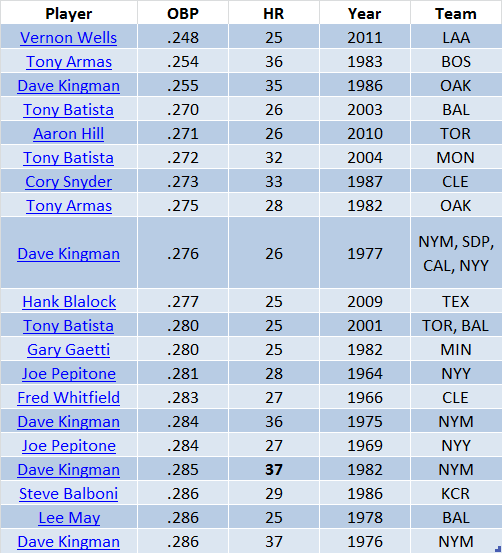 Source: Baseball-Reference.com
Soriano's has an ultra-low OBP for two main reasons. He's even more of a hacker this season, with his chase rate climbing from 36% in 2012 to 41% in 2013 -- only San Francisco's Pablo Sandoval has been jumpier against pitches thrown out of the strike zone. Soriano also doesn't seem to instill as much fear in pitchers these days. He is seeing more pitches thrown over the plate (46%) than he ever has during the Pitch F/X era (2008-2013).
With power but also a paltry OBP, Soriano has essentially been a league-average hitter this season (99 OPS+). That might beat playing Wells every day, but Soriano's Kingman-esque production is a far cry from his early glory days in the Bronx.
Comments Off
|

Email Article
| |

Permalink
|

Print Article
in

BB/9 innings,

Yankees,

cubs
|
tagged

Alfonso Soriano,

Chicago Cubs,

New York Yankees,

Right-handed Home runs