David Golebiewski
|

Monday, December 10, 2012 at 8:28AM
Now that Zack Greinke has joined the Dodgers, signing the richest contract in history for a right-handed starting pitcher, he'll team up with another ace who may well set the money record for southpaws in Clayton Kershaw. They give L.A. a pair of elite strikeout artists, as Greinke ranks 14th in K/9 among starters over the past three seasons and Kershaw places fifth. But they rack up those Ks in far different ways. Greinke lets batters get themselves out on pitches off the plate, while Kershaw challenges them to touch his sinister stuff.
Here's a look at where Greinke and Kershaw got their strikeouts during the 2012 season:
Location of Greinke's strikeouts, 2012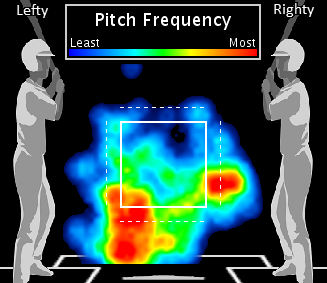 Greinke goes out of the zone when he's looking for a strikeout, throwing just 37% of his pitches over the plate with two strikes. That's well below the 41.4% MLB average for starters in two-strike counts. Going out of the zone so often, Greinke got about 57% of his strikeouts on chase pitches, compared to the 54.5% average for starters. In fact, the only starter to register more Ks on out-of-zone pitches last year was Felix Hernandez.
Location of Kershaw's strikeouts, 2012
By contrast, Kershaw's approach can be summed up as: "Here it is, I dare you to hit it." He placed 43.2% of his two-strike pitches within the strike zone. While Greinke induced lots of strikeouts on chase pitches, Kershaw got less than half of his Ks (49.3%) on out-of-zone offerings. Kershaw had the fourth-most strikeouts on in-zone pitches last year, trailing just R.A. Dickey, Justin Verlander and Max Scherzer. Kershaw is more confrontational than Greinke when it comes to throwing inside, too: About 47% of the lefty's Ks came on inner-half pitches, compared to 28% for Greinke (39.5% average for starters).
According to Baseball-Reference, the only Dodgers duos to register 200+ Ks in the same season are Stan Williams and Sandy Koufax (1961), Koufax and Don Drysdale (1962-65), Koufax and Don Sutton (1966), Sutton and Bill Singer (1969), and Kevin Brown and Chan Ho Park (2000). With Greinke going away and off the plate and Kershaw bullying hitters with inside, in-zone pitches, look for another pair to be added to that club in 2013.
Comments Off
|

Email Article
| |

Permalink
|

Print Article
in

Dodgers,

Free Agent Signings
|
tagged

Clayton Kershaw,

Los Angeles Dodgers,

Zack Greinke