David Golebiewski
|

Friday, November 1, 2013 at 10:29AM
Nobody can accuse David Ortiz of recklessly celebrating Boston's third World Series title in a decade. Big Papi shielded his dome and nearly broke Twitter by sporting a motorcycle helmet during the Red Sox' postgame bash. Ortiz isn't the one who needs protection, though -- that would be St. Louis' typically stellar pitching staff. Papi batted .688 and got on base at a .760 clip during the World Series, trailing only Billy Hatcher (1990) in both categories among hitters in a single Fall Classic. Combined with his heroics in 2004 and 2007, Ortiz now has the second-highest career OBP (.576) ever in the World Series among batters getting at least 25 plate appearances (Barry Bonds is first, at .700).
Here's more on how Ortiz tortured the Cardinals -- when they weren't giving him the Bonds treatment, that is.
Cardinals pitchers wanted nothing to do with Ortiz, throwing just 29.7 percent of their offerings over the plate against Boston's clean-up man. On a related note, he drew eight walks during the series, tying him with Babe Ruth, Mickey Mantle and a few others for fifth-most all-time. No other hitter in the World Series came close to getting the Ortiz treatment. Carlos Beltran, himself a postseason demigod, saw the second-lowest rate of pitches in the strike zone (42 percent) during the Fall Classic.
Percentage of in-zone pitches seen during the 2013 World Series (minimum 20 PA)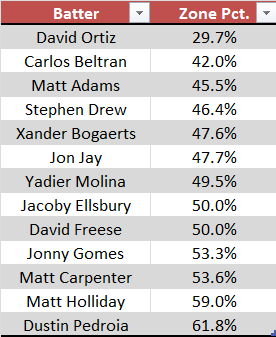 When Ortiz did get something over the plate, he made it count. He went 8-for-10 with two homers versus in-zone pitches during the World Series. Big Papi crushed a middle-middle fastball from Kevin Siegrist in Game 1, and then went oppo on a Michael Wacha changeup in Game 2.
Ortiz took 38 total swings during the series, and he came up empty a mere four times. His 10.5 percent miss rate was lowest among all Sox and Cardinals hitters logging 20-plus plate appearances, just beating out Matt Carpenter (10.6 percent) and Beltran (10.7 percent).

Post a Comment
|

Email Article
| |

Permalink
|

Print Article
in

Cardinals,

Red Sox,

World Series
|
tagged

Boston Red Sox,

David Ortiz,

St. Louis Cardinals,

world series