Alec Dopp
|

Wednesday, December 11, 2013 at 12:48PM
When it was announced that the Mets would shut down Matt Harvey for the remainder of the 2013 season with a partially torn ulnar collateral ligament in his pitching elbow at the end of August, a part of every baseball fan's soul dissolved ever so slightly. Well, maybe that was too much. The point is, Harvey was arguably the most exciting pitcher in baseball before the injury, having posted a 2.27 ERA that ranked best among qualified righties at that juncutre to go with a National League-best 27.7% strikeout rate.
But the basic numbers themselves weren't the only thing that made the 24-year-old phenom so intoxicating. Wielding an easy 80-grade changeup that held batters to a .208 batting average (and didn't allow one extra-base hit all season) and two breaking pitches that combined for a 36.3% strikeout rate was impressive, but what arguably most attracted the masses was Harvey's electrifying fastball.
Harvey's Fastball Ranks Among Qualified Starters, 2013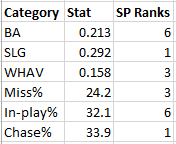 As we can see, Harvey's fastball was ludicrous last season in several respects. The pitch ranked first in opponent slugging percentage against, allowing only 14 extra-base hits in 377 plate appearances. It also induced a major-league best 33.9% chase rate, which was considerably higher than Homer Bailey's 31.6% rate that ranked second-best it the NL. Tim Hudson (.151) was the only NL pitcher to induce a lower well-hit average on his fastball than Harvey, and Shelby Miller (24.8%) and Yu Darvish (25.6%) were the lone right-handed starters to garner higher swing-and-miss rates than Harvey.
Of course, some of Harvey's fastballs were more captivating than others. More specifically, I'm talking about heaters of 98 MPH and above -- such pitches that opponents had little hope for success against last season.
Harvey's 98 MPH+ fastball pitch frequency, 2013
Opponent in-play rate vs. Harvey's fastball 98 MPH+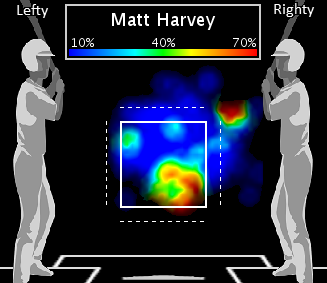 Results and averages comparison against Harvey's 98+ MPH fastball
No qualified starter last season threw more fastballs at 98 MPH or above last season than Harvey's 187, and as such, batters struggled mightily against the offering. Over 49 plate appearances, opponents posted a .070/.184/.070 slash line against Harvey's 98+ MPH heater to go with a .047 well-hit average. They also placed just 18.4% of such offerings in play and swung at 37% when located out of the strike zone. As the pitch frequency map above shows, Harvey pumped those fastballs in the upper half of the zone at a 70.6% rate -- a region of the zone where opponents put a resounding 11.1% of such offerings in-play and struck out at a 63.6% clip.
I've included opponents' results and averages on Harvey's fastball when clocked at 90-96 MPH and 97 MPH and above to show how dominant his fastball was when at least 98 MPH. While the pitch was dominant regardless of velocity, it seems his fastball was most nasty at that speed. Opponents' well-hit average decreased by .088 from 97 MPH and above to 98 MPH and up, missing at nearly 5% more with the 1 MPH increase.
While we should take into consideration that only 6.9% of Harvey's fastballs last season were 98 MPH and above, we can still easily conclude such offerings were ridiculously difficult for batters to handle. As is the case with all starting pitchers, Harvey's velocity will progressively decrease from here on out, and it remains to be seen how Tommy John surgery will have either adverse or favorable affects on his velocity in 2015.
But one thing is for certain: Harvey's fastball was pretty darn dominant last season. And we're going to miss it.

Post a Comment
|

Email Article
| |

Permalink
|

Print Article
tagged

Matt Harvey,

New York Mets