David Golebiewski
|

Friday, December 13, 2013 at 6:00AM
After watching a generation of pitching prospects mostly go bust, the Colorado Rockies have started to cobble together what could be a quality rotation with ground ball-generating starters Jorge de la Rosa, Jhoulys Chacin and Tyler Chatwood in the majors and Eddie Butler and Jonathan Gray on the farm. The Rockies added another high-upside worm-burner on Tuesday, acquiring Brett Anderson and cash from the A's for one of those stalled young arms (Drew Pomeranz) and minor leaguer Chris Jensen.
Anderson, 25, devolved from Oakland's ace-in-waiting to a training table regular thanks to an elbow injury that eventually required Tommy John surgery in 2011 and a stress fracture of his right foot that wiped out most of his 2013 season. The last time the former Diamondbacks prospect tossed even 100 innings was 2010. But Anderson has been tantalizing when able to take the mound, limiting walks (2.4 per nine innings pitched) and churning out ground balls (55 percent of pitches put in play) while compiling a park-and-league adjusted ERA that's nine percent above the league average.
The lefty's slider is a major reason why he has tormented hitters when not on the rehab trail. Anderson has thrown the sweeping, low-80s pitch more than a quater of the time (26.2 percent) during his MLB career, limiting hitters to a .270 slugging percentage. That's tenth-best among starters since 2009, right behind slider aficionado Francisco Liriano.
Why is Anderson's slider so deadly? He gets hitters to pound the pitch into the grass, and he grabs lots of called strikes by freezing opponents on sliders thrown over the plate.
Take a look at Anderson's ground ball rate by pitch location with his slider (left), compared to the league average for left-handers: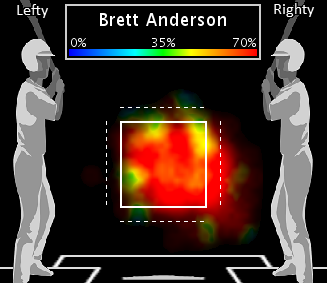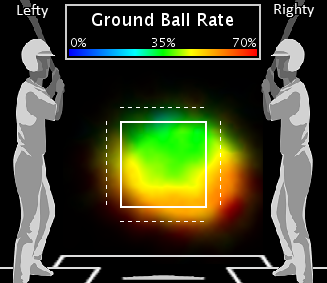 Overall, lefty starters had a 46 percent ground ball rate when throwing a slider from 2009-13. Anderson induced grounders 66 percent of the time with his slider, tops among all southpaws who regularly throw the pitch by a wide margin (Jaime Garcia is a distant second, at 60 percent).
When Anderson isn't getting grounders with his slider, he's jumping ahead in the count as hitters take breaking pitches thrown over the plate. Opponents have swung at just 57 percent of the sliders that Anderson has located within the stike zone, far below the 66 percent average for left-handed starters. With hitters gluing the bat to their shoulders, Anderson has the fourth-highest called strike rate (36 percent) with his slider among lefties since '09, trailing just Chris Sale, Ted Lilly and Mike Minor.
Coors Field and breaking balls go together like peanut butter and motor oil, but research suggests that sliders aren't harmed as much by the mile-high air as curveballs. Plus, the Rockies have paired ground ball-centric starters like Anderson with quality infield defenders (Colorado converted the sixth-highest percentage of ground balls put in play among MLB clubs in 2013). If Anderson is ambulatory, he could be a major bargain at a net $6 million salary next year and stick with the Rockies through 2015 (the club holds a $12 million option). When you're desperate for premium pitching, taking a chance on an oft-injured potential ace can't hurt.

Post a Comment
|

Email Article
| |

Permalink
|

Print Article
in

Athletics,

Rockies,

Slider,

Trades,

Winter Meetings
|
tagged

Brett Anderson,

Colorado Rockies,

Coors Field,

oakland athletics,

slider