David Golebiewski
|

Monday, December 16, 2013 at 7:43AM
Absolutely nothing about Bartolo Colon screams longevity. His right shoulder is a science experiment, he's an ardent follower of the Body by Boomer Wells fitness plan, and he lobs not-so-fast fastballs almost exclusively. His body failing him, Colon appeared on the verge of retirement eight seasons ago. By looks alone, you might think he did hang 'em up and just decided to dust off his glove for a beer league softball start.
Colon still looks imposing to hitters, though. He's coming off one of the greatest age-40 seasons in history, posting a park-and-league-adjusted ERA 41 percent above average. Among quadragenarians qualifying for the ERA title, only Nolan Ryan (142 ERA+ in 1987), Pete Alexander (160 ERA+ in 1927) and Randy Johnson (176 ERA+ in 2004) were better. Colon's superb work with the A's just earned him a two-year, $20 million free agent deal with the New York Mets.
What makes Colon's late-career resurgence all the more confounding is that his stuff seems so ordinary, so predictable. He doesn't possess Ryan's heat, Alexander's hard curve or Johnson's wipeout slider. Colon practically doesn't even have secondary offerings, throwing his fastball a major league-high 85 percent of the time. It's not fast, either, with an average velocity (89.9 MPH in 2013) nearly two miles per hour under the MLB average for right-handed starting pitchers (91.6 MPH).
How can a one-pitch hurler with below-average zip nonetheless contend for the Cy Young Award? Here are three reasons why Colon is still getting it done with his fastball.
1.) He pounds the strike zone
Colon returned to the majors in 2011 following a year spent rehabbing and getting stem cell treatment for his then-shredded shoulder. Colon's ailments cost him some velocity, but he has compensated with improved control. Since 2011, he has thrown the ninth-highest percentage of fastballs (54.9) within the strike zone among AL starting pitchers (minimum 3,000 pitches). The league average over the past three seasons is just 49.1 percent. By attacking hitters, Colon surrendered the fewest walks (1.6 per nine innings pitched) among all Junior Circuit starters from 2011-13. A younger, harder-throwing Colon wasn't this stingy with walks (his career average is 2.8 per nine frames).
Highest percentage of fastballs thrown within the strike zone among AL starters, 2011-13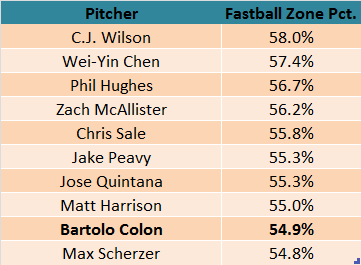 2.) He gets favorable calls on pitches thrown around the edges of the plate
If there's one advantage to being a soft-tosser, it's that umps are more likely to give you the benefit of the doubt on close calls. Colon is a prime example of this phenomenon, enjoying a higher called strike rate than the average MLB starter both on pitches thrown inside of the strike zone and off the plate:
Colon's called strike rate, 2011-13

Compared to the average MLB starter, Colon has received an extra 86 calls on pitches taken by hitters over the past three years. That's essentially one extra strike per start. It might not sound like much, but that close call can be the difference between a big inning and another spotless frame.
3.) He rarely gives up long drives on fastballs hit in the air
Overall, batters loft fastballs an average of 266 feet when they hit the ball in the air. Against Colon, however, hitters drove the ball just 259 feet from 2011-13. That puts Colon in the same rarefied air as power pitchers like Clayton Kershaw and Justin Verlander (255 feet apiece). Hitters just don't square up Colon's heater, resulting in more cans of corn and warning track shots instead of three-run homers.
By peppering the strike zone, benefiting from umpires' generosity on borderline calls, and limiting hard contact, Colon allowed a .400 opponent slugging percentage on his fastball from 2011-13. That's about 40 points below the MLB average, and bests youngsters with humming fastballs like Stephen Strasburg (.409) and Chris Sale (.413). Colon's no super hero, but he should be able to anchor the Mets' rotation as the Dark Knight of Gotham plots his return in 2015.
in

Athletics,

Free Agents,

Mets,

fastballs
|
tagged

$20 million,

Bartolo Colon,

New York Mets,

fastball,

free agent,

oakland athletics