David Golebiewski
|

Thursday, December 12, 2013 at 6:00AM
The A's and Rockies exchanged lefty lottery tickets at the winter meetings, with Brett Anderson (and $2 million cash) headed to Colorado for Drew Pomeranz (and minor leaguer Chris Jensen). From Oakland's perspective, trading the oft-injured Anderson saves at least $7.5 million (his $8 million salary in 2014 minus the cash sent to the Rockies, and a $1.5 million buyout on a 2015 club option) and gives the A's team control over a former top-five draft pick through the 2018 season.
GM Billy Beane said the deal allows Oakland to "turn back the clock a little with another very talented left-hander," letting the club's development staff tinker with Pomeranz' herky-jerky delivery in hopes of unlocking the talent that made him a top-25 prospect and the key player acquired by Colorado in the 2011 Ubaldo Jimenez deal. The problem is, the 25-year-old's development clock is frozen in time -- he's still a fastball-first pitcher with unreliable secondary stuff, leading to gargantuan platoon splits.
During his major league career, Pomeranz has suffocated fellow left-handed hitters to the tune of a .457 on-base-plus-slugging percentage. No lefty starter in the game has a lower OPS against same-handed batters over the past three seasons (minimum 100 lefties faced). Against righties, though? Pomeranz has been pummeled for an .888 OPS, topping only the now- unemployed Jonathan Sanchez (minimum 400 righties faced). Basically, Pomeranz turns lefties into Felix Pie and righties into Matt Holliday. That's a problem when about 56 percent of the major league population swings from the right side.
Here's a closer look at what makes Oakland's new reclamation project deadly versus lefties, and dead in the water against right-handers.
Lefty Killer
Among left-handed starting pitchers facing at least 100 lefties over the 2011-13 seasons, only David Price and Tony Cingrani (80 percent each) threw fastballs more often than Pomeranz (79 percent). Pomeranz pounded the outside corner versus left-handers, throwing far more heaters to the outside corner (61 percent) than the MLB average (48 percent). Pomeranz's simple approach -- play keep-away with the fastball, and mix in an occasional curve -- paid off handsomely.
Pomeranz has eviscerated fellow lefties with his fastball, inducing whiffs at an elite level. Left-handers have missed 34 percent of the time they have swung at Pomeranz' heat, highest among all lefty starting pitchers throwing at least 400 fastballs to same-handed hitters over the past three seasons. His fastball miss rate is nearly double the MLB average for lefty-on-lefty matchups (18 percent).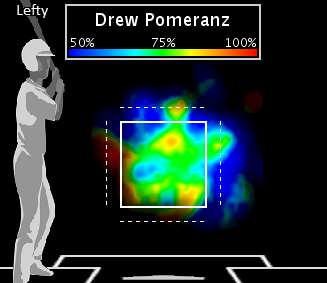 Pomeranz's fastball contact rate vs. lefties, 2011-13
Many of those whiffs from lefties are coming on pitches thrown off the plate. Batters have chased 34 percent of Pomeranz's fastballs located outside of the strike zone, also the highest among lefty starters taking on same-handed hitters. The MLB average? just 24 percent.
By generating so many whiffs and chases, Pomeranz boasts the highest fastball strike percentage against lefties (70.6) this side of Cliff Lee (73.3).
Pomeranz has also spotted his curveball against same-side batters, throwing a strike 59 percent of the time (58 percent average for lefty vs. lefty confrontations).
Righty Punching Bag
Lacking a reliable changeup, Pomeranz threw the highest percentage of fastballs to righties (77) among all lefty starters taking on at least 400 opposite-handed hitters from 2011-13. He tried to bust right-handers in on the hands with his fastball, throwing inside 42 percent of the time (34 percent average for lefty pitchers). Clayton Kershaw (47 percent) was the only lefty to challenge right-handers inside more frequently. Kershaw, possessing 93-97 MPH gas and a pair of wicked breaking pitches, can get away with that. Not so much with Pomeranz, who complements his low-90s fastball with spotty secondary stuff.
Batters swung through Pomeranz's fastball 15 percent of the time -- a dead ringer for the MLB average in lefty versus righty matchups. He has actually managed to garner more chases with his fastball (30 percent) than the MLB average for lefties against righties (24 percent).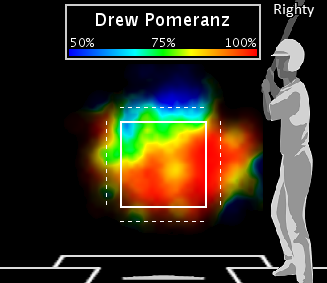 Pomeranz's fastball contact rate vs. righties, 2011-13
While his fastball is modestly effective versus opposite-handed batters, the same can't be said for his curveball (thrown 15 percent of the time) and changeup (8 percent). Over the past three seasons, Pomeranz has the lowest strike rate with his curveball (47 percent) among all lefties throwing at least 250 benders to right-handed hitters.
His changeup strike rate is even lower (43 percent). Cingrani is the only lefty to miss the mark more often with his changeup against righties (minimum 100 thrown).
The A's have a full rotation, with newly-signed Scott Kazmir joining Jarrod Parker, Sonny Gray, A.J. Griffin and Dan Straily, so Pomeranz figures to start 2014 attempting to conjure up breaking and off-speed stuff at Triple-A Sacramento. Short of accomplishing that, this former bonus baby could be headed for a career as a lefty specialist out of the bullpen.
Comments Off
|

Email Article
| |

Permalink
|

Print Article
in

Athletics,

Curve ball,

Rockies,

Trades,

Winter Meetings
|
tagged

Brett Anderson,

Colorado Rockies,

Coors Field,

Drew Pomeranz,

oakland athletics,

trade