David Golebiewski
|

Saturday, April 13, 2013 at 10:31AM
The Mets are off to a 6-4 start this year, and Matt Harvey is a major reason why. Harvey has surrendered just one run while winning his first two starts, punching out 19 batters in 14 innings pitched. The 24-year-old right-hander with a blistering fastball is challenging hitters with high heat -- and he's winning.
Here is Harvey's fastball location so far in 2013: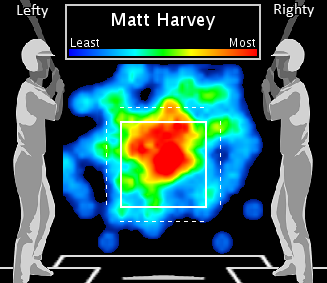 Overall, major league starting pitchers have thrown about 35% of their fastballs to the upper third of the strike zone this season. But Harvey? He's going upstairs 53% of the time, highest among National League starters throwing at least 100 pitches. Harvey's high heat is getting results, too. He's getting hitters to swing and miss at his fastball nearly half of the time, putting him in a class all his own among MLB starters:
Highest fastball miss rate among MLB starters (min. 100 thrown)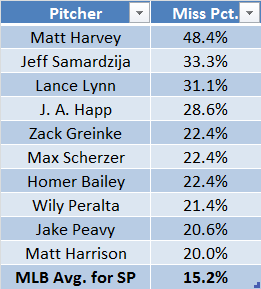 Harvey has thrown his fastball, which screams towards home plate at an average of 94 MPH and has topped out at 98 MPH, about two-thirds of the time. Opponents are hitting .154 (4-for-26) against his heater, with a lone extra-base knock (congrats, Jimmy Rollins!) Eat your heart out, Verlander and Strasburg.

Post a Comment
|

Email Article
| |

Permalink
|

Print Article
in

Mets
|
tagged

Matt Harvey,

New York Mets,

fastball,

strikeouts