David Golebiewski
|

Friday, June 21, 2013 at 4:33PM
During his halcyon days with the Astros and Phillies, Roy Oswalt generated impressive velocity by hurling every bit of his 6-foot, 190 pound frame toward home plate with a drop-and-drive delivery. As Oswalt aged and his body betrayed him -- he's got a degenerative disc condition in his back -- those 93s and 94s on the radar gun became 90s and 91s.
Oswalt showed his old zip for the Rockies last night, however, striking out 11 Nationals while making his first major league start since September of 2012. The 35-year-old pounded the strike zone with his fastball, getting most of those Washington whiffs with the pitch. But Oswalt also left plenty of those heaters belt-high, which helps explain why he was tagged for four runs in five innings pitched. Here's more on Oswalt's feast-or-famine fastball:
Oswalt practically forgot he had secondary stuff, throwing 80 fastballs out of 101 total pitches. He averaged 92.5 MPH and topped out at 94.3 MPH. Last year, Oswalt averaged 91.3 MPH as a starting pitcher with the Rangers.
Nats hitters missed 15 of the 45 fastballs they swung at versus Oswalt (33%), well above the 20% whiff rate that Oswalt managed in 2012 and the 15% MLB average for starting pitchers. Oswalt got ten of his 11 Ks with his fastball, mostly on pitches located on the corners.
Location of Oswalt's Ks with his fastball vs. Nationals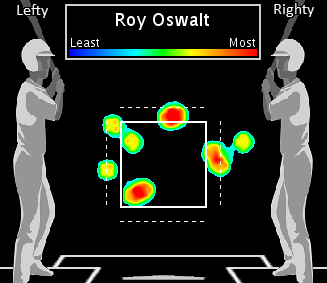 He threw 56% of his heaters over the plate, north of the 53% average for MLB starters. He wasn't nibbling, either, challenging hitters to square him up in the middle of the zone. Forty-three of Oswalt's 80 fastballs (54%) were thrown belt-high. Overall, MLB starters throw about 36% of their fastballs to the middle of the zone.
Oswalt's overall fastball location vs. Nationals
Oswalt's "here it is, try and hit it" approach did backfire at times, as Washington batters went 8-for-22 (.364) against the pitch. Five of those eight base knocks came on belt-high fastballs.
Oswalt showed enough stuff to earn more MLB starts, enjoying radar gun readings not seen since he was still a 200-inning-a-year horse. But he's not in Tulsa anymore, so he's going to have to show finer touch with his fastball to forge a successful comeback. Throwing belt-high heat at mile-high elevation is a dicey proposition, no matter how much zip you have.
Comments Off
|

Email Article
| |

Permalink
|

Print Article
in

Rockies
|
tagged

Colorado Rockies,

MLB return,

Roy Oswalt