Alec Dopp
|

Tuesday, September 10, 2013 at 7:44PM
The Atlanta Braves have all but run away with the National League East title with just two weeks and change remaining in the regular season, putting themselves in prime position to capture the league's No. 1 overall postseason seed in the process. To no surprise, a key reason for their success has come from the recent resurgance of 25-year-old phenom closer Craig Kimbrel.
A season ago, Kimbrel made a legitimate run at NL MVP honors in posting a 1.01 ERA, 0.65 WHIP and 50.2 percent strikeout rate over 63 appearances -- each of which ranked No. 1 among NL relievers with at least 40 innings pitched. One could argue (though probably not convincingly) he is having an even better 2013 campaign, holding true to a 0.91 ERA and 0.84 WHIP and 38 percent strikeout rate in 60 appearances.
But it's taken a prolonged herculean effort on Kimbrel's part to maintain such impressive numbers once more this season. After posting a 1.72 ERA from the beginning of the season through July 4, a span in which opponents batted .198/.288/.324 against him, Kimbrel has yet to relinquish a run -- earned or unearned -- since his first appearance following his Independence Day outing.
You can look up the game logs on your own, if you so wish, but I'll save you some time and tell you that comes out to be a stretch of 28.1 innings in which opponents have yet to cross home plate against Kimbrel. Over that span, he's held batters to a paltry .115/.167/.135 slash line, punching out 41 percent of his competition in the meanwhile.
A number of things have helped contribute to Kimbrel's ridiculous two-month scoreless run, but none offer a more thorough explanation than opponents' plate discipline regressions against his fastball.
Comparing opponents' plate discipline rates vs. Kimbrel's fastball in 2013
| | | | | | |
| --- | --- | --- | --- | --- | --- |
|   | Zone% | Swing% | Chase% | In play% | Well-hit avg. |
| April 1- July 4 | 57.0% | 47.3% | 21.3% | 29.1% | .188 |
| July 8 - Sept. 10 | 52.1% | 53.4% | 38.6% | 30.1% | .113 |
The most prominent lapse in opponents' plate discipline against Kimbrel's fastball has been their significantly increased willingness to A.) swing at the offering more frequently, shown by a 6.1 percent swing rate increase and B.) offer at it more often when located out of the strike zone -- evidenced through a 16.4 percent increase in chase rate from his pre-scoreless streak to his current scoreless rampage.
To that end, it should come as no surprise that opponents' well-hit average has dipped to nearly the .100 mark against his fastball since his scoreless streak began back on July 8. Generally speaking, it is much more difficult for a batter to place quality contact on an offering that is located out of the strike zone than it is to do so on one that is placed within the zone. In fact, the league average WHAV for fastballs in the zone this season is .258; the league average WHAV for fastballs out of the zone is a mere .103. You get my point.
But raw numbers only paint a portion of the picture. A visual representation is necessary to understand why opponents' plate discipline issues have increased.
Kimbrel fastball pitch frequency, April 1 - July 4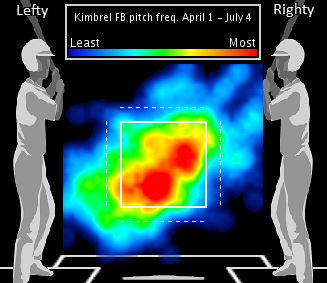 Opponents' chase rate vs. Kimbrel's fastball, April 1 - July 4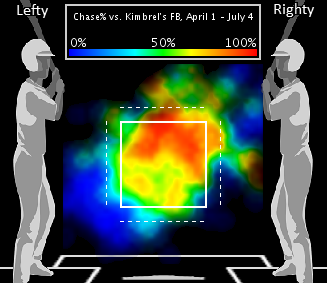 Kimbrel fastball pitch frequency, July 8 - September 10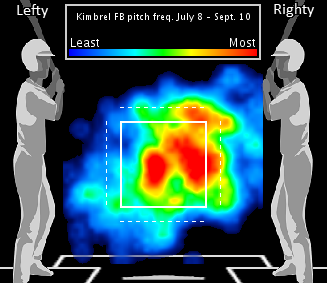 Opponents' chase rate vs. Kimbrel's fastball, July 8 - September 10
What we can take away from the chase rate heat maps pictured above is that opponents have been much more willing to swing at Kimbrel's fastball, particularly when located above the strike zone. This is a surefire product of his changing fastball command, which has shifted to the upper and inner portion of the zone, the latter portion applied especially against right-handed batters.
Prior to his current scoreless streak, Kimbrel threw his fastball in the upper half of the zone at a 33.5 percent clip, increasing it to 37.3 percent during his streak. He's also thrown more fastballs on the inner half of the plate -- 28.9 percent from April 1 to July 4 compared to 33.2 percent from July 8 to September 10.
Notably, Kimbrel's fastball has also added a tick in velocity onto it during his streak, clocking in at 97.2 MPH on average juxtaposed to his 96.5 MPH average prior to his streak. This increase in velocity, coupled with his command adjustments, are the likely culprits for opponents' plate discipline issues. Locating higher in the zone with increased velocity is a definite recipe for his fastball success.
Best of luck if you're facing Kimbrel in the ninth inning from here on out. You'll need it.

Post a Comment
|

Email Article
| |

Permalink
|

Print Article
in

Braves,

Bullpen,

Pitchers,

pitching
|
tagged

Craig Kimbrel