David Golebiewski
|

Friday, September 20, 2013 at 3:49PM
The Cincinnati Reds and Pittsburgh Pirates, currently holding the National League's two Wild Card spots and still chasing the St. Louis Cardinals for NL Central supremacy, begin a pivotal series tonight at PNC Park. The Bucs' ace and the winter's biggest free agent bargain, Francisco Liriano, will square off against a Cincy lineup led by on-base machines Shin-Soo Choo and Joey Votto and slugger Jay Bruce.
The Reds' three key lefty bats could be in for a long night against Liriano, who is mowing down fellow southpaws like no other starting pitcher in major league history. He's holding them to a .319 on-base-plus-slugging percentage in 2013, lowest ever for a lefty pitcher facing at least 100 lefty batters in a season. The big league average in lefty-versus lefty situations is just .645. Tonight's game could come down to whether Choo, Votto and Bruce can lay off Liriano's slider.
No National League starter this side of Madison Bumgarner throws his slider as often as Liriano (36% overall), and he relies on that high-80s missile even more against lefties (42%). He locates his slider off the outside corner to left-handers, just close enough to the edges that hitters feel compelled to swing once Liriano has bullied them into a pitcher's count.
Pitch location of Liriano's slider vs. lefties, 2013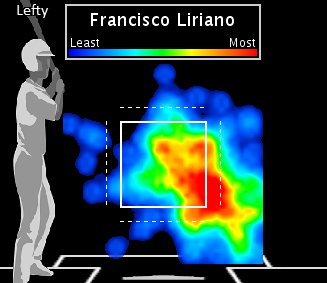 Lefty hitters can't resist those tantalizingly close sliders, chasing them out of the strike zone 43% of the time. Liriano's chase rate with his slider against lefties is seventh-highest among starters, comfortably topping the 36% average and beating the likes of Clayton Kershaw (41%), Derek Holland (37%) and Chris Sale (35%).
Lefty hitters' swing rate by pitch location vs. Liriano's slider, 2013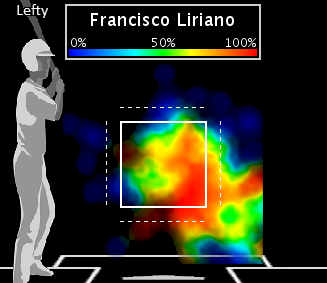 Thanks to such an expanded strike zone, Liriano has a .076 opponent slugging percentage when he unleashes a slider to a lefty batter. That's best in the bigs and over 200 points below the MLB lefty-on-lefty average (.285).
So, how do the Reds' left-handers match up against the game's ultimate lefty hit man? Votto and Bruce probably aren't sweating Liriano. Choo, by contrast, must be drenched.
Votto has handled same-handed pitching over the past three seasons, posting a .908 OPS in 573 plate appearances against lefties. In fact, no qualified lefty hitter has a higher OPS against lefty pitching over that time frame. He's nearly platoon-proof in part because his Gandhi-like discipline extends to those tempting lefty sliders. Votto has chased just 28% of the time since the start of the 2011 season. Votto's patient approach has helped him slug a respectable .364 versus lefty sliders.
Bruce hasn't been shut down by lefties, either (.770 OPS in 602 PA). While he's much more of a free swinger than Votto overall -- who isn't? -- Bruce has chased lefty sliders off the plate 29% of the time. He's slugging .327 versus lefty sliders from 2011-13.
And then there's Choo. Maybe he wears that batting helmet with double ear flaps because he's wistfully thinking about taking up switch-hitting: Choo has a .617 OPS versus same-handed pitching in 569 PA from '11 to '13. He also shows good discipline versus lefty sliders (29% chase rate), he just can't hit them (.138 slugging percentage). Might be a good night for Choo to come down with a sudden case of Liriano-itis.
Comments Off
|

Email Article
| |

Permalink
|

Print Article
in

Pirates,

Reds
|
tagged

Cincinnati Reds,

Jay Bruce,

Joey Votto,

NL Central,

Pittsburgh Pirates,

Shin-Soo Choo,

Wild Card