Bill Chuck
|

Tuesday, April 30, 2013 at 1:17PM
We have been frequently told that you need to get to good pitchers early.
We've also been told how important it is to get off to a good start.
When you follow baseball, you get told a lot of things.
So I decided to I'd a little investigating by putting the 1st inning first.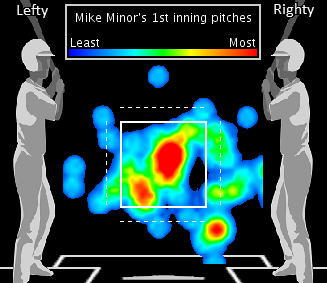 Mike Minor of Atlanta is our major winner in this category. Minor has faced 15 batters in five 1st inning starts.
A.J. Griffin, Derek Holland, and Homer Bailey have each faced just 16 in five starts.
The two pitchers who have faced the most 1st inning batters this season are Bud Norris and Stephen Strasburg, with 33 each. They've each had six starts, but right behind them is Philip Humber who has faced 32 batters in five starts.
Obviously, Minor has a perfect .000 batting average against, but then again so does Wily Peralta whose faced 18 batters in five starts without giving up a hit.
Humber has been ugly in the 1st with batters hitting a whopping .552 against him.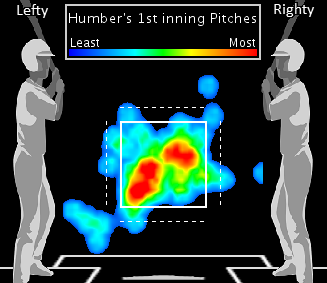 Wade LeBlanc has been hit at a .536 pace, and it may surprise you to find out that batters are hitting Hiroki Kuroda at a .500 pace in the 1st.
In six games, Bud Norris has thrown 145 pitches in the 1st inning (24.1 ppi). Juan Nicasio and Edwin Jackson have each tossed 126 pitches in five 1st innings (25.2 ppi).
On the good side are Carlos Villanueva (57 pitches), A.J. Griffin (59), Clay Buchholz (60), and Mike Minor (61).
Minor and Peralta have allowed no 1st inning hits and Griffin, Derek Holland, Jason Vargas, Marcos Estrada, and Roberto Hernandez have allowed just one hit each.
Humber has amazingly allowed 16 hits, Wade LeBlanc has permitted 15, Kuroda has permitted 12 hits, and Strasburg, Vance Worley, Mike Pelfrey, and Jeff Francis have allowed 11 hits each.
While there are many pitchers who have not yet permitted a 1st inning homer, it should be noted that in six games CC Sabathia has allowed three, and in five games, Jason Marquis has also allowed three.
Felix Hernandez has struck out 11 batters in six 1st innings.
Jon Neise has struck out none in six starts and Miguel Gonzalez none in five.
Bud Norris has issued seven walks in six starts and Edwin Jackson has issued six walks in five starts.
Contemplating all this data, I would say that undoubtedly Mike Minor is baseball's best 1st inning pitcher so far this season, retiring all the batters he's faced.
And, Phillip Humber so far is baseball's worst allowing 14 runs (all earned) giving him an ERA of 29.08 and a WHIP of 4.385.

Post a Comment
|

Email Article
| |

Permalink
|

Print Article
in

1st inning
|
tagged

1st Inning,

Philip Humber,

mike minor,

pitchers