David Golebiewski
|

Monday, December 30, 2013 at 6:00AM
Let the bidding commence! Nippon Professional Baseball's Rakuten Golden Eagles officially posted Masahiro Tanaka last week, opening the door for MLB clubs to land the two-time winner of the Sawamura Award, Japan's Cy Young equivalent. Tanaka will undoubtedly sign the richest contract ever for a Japanese player coming stateside, as the new posting agreement between the leagues essentially allows all MLB teams to pay up to a $20 million fee to the Eagles for the right to negotiate a free agent contract with the 25-year-old ace (the fee is refunded to teams that don't sign him). Previously, the posting fee was uncapped, with teams bidding blindly against one another for the exclusive right to negotiate with the player.
So, why will Tanaka soon blow past Yu Darvish's $56 million cut from the Texas Rangers and potentially ink the first $100 million (posting fee excluded) deal for a Japanese player? He possesses premium stuff, complementing his low-to-mid-90s heat with a devastating splitter, a tight slider and an occasional curveball. His stats are pretty impressive, too, as Tanaka compares quite favorably to other starting pitchers who have made the jump from Japan to the majors.
To see how Tanaka stacks up with the likes of Darvish, Daisuke Matsuzaka, Hiroki Kuroda and Hideo Nomo, I found the ERA, strikeout, walk, and home run rates for Japanese starters during their last three seasons before arriving in the majors. I then compared them to the NPB league average over that time frame and placed the stats on a scale where 100 is exactly average, north of 100 means the pitcher is above average in that category and under 100 means he's below average. I weighted the stats to put more emphasis on the pitcher's most recent work (50 percent weight to his last season in Japan, 30 percent to the second-to-last year, and 20 percent to the third-to-last year). The numbers aren't park-adjusted, so keep that in mind as you look at the table below (Miyagi Baseball Stadium, Tanaka's home park, appears to suppress home runs).
Tanaka has done a better job of preventing runs than all other Japanese imports, posting an ERA that's 136 percent better than the league average. His strikeout rate, which has dropped three years running, is actually pretty modest (30 percent above average). But he's a stud when it comes to throwing strikes and keeping the ball in the park. Tanaka has the best walk rate (137 percent above average) this side of Colby Lewis, and only Darvish surrendered fewer home runs.
There's another Japanese starter with sparkling numbers who could be posted this winter: Hiroshima Carp right-hander Kenta Maeda. The 25-year-old probably doesn't excite scouts as much as Tanaka, considering his skinny frame, high-80s-to-low-90s velocity and decent secondary stuff. While his K rate is low (17 percent above average), Maeda boasts quality control and is fairly stingy with the long ball.
Masahiro Tanaka vs. other NPB aces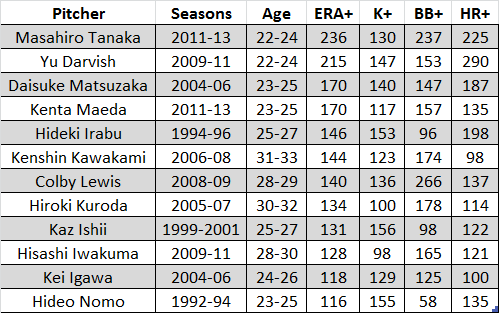 It's useful to see how Tanaka compares to fellow NPB aces, but this table shows that stats alone certainly don't predict how successful a pitcher will be in the states. Nomo walked everybody in his home country with his tornado-like windup, yet he holds the record for most career Wins Above Replacement (21.7) among Japanese-born pitchers. Kuroda (19.4 WAR) will likely surpass him next year. Who could have predicted that, considering his good-not-great work with the Carp in his early 30s? If there's one universal truth in baseball, it's this: pitchers are a strange, unpredictable lot.
To be more like Darvish than Dice-K, Tanaka will have to answer a number of questions. Can he make the transition from pitching on six days' rest to four? Will his heavy workload in Japan (1,315 innings pitched) affect his stuff and durability down the road? Why is he missing fewer bats in recent years? It will be a while before we know the answers, but one MLB team -- the Yankees? Cubs? Dodgers? Astros? -- is about to make a nine-figure wager that Tanaka's stuff and statistical track record will make him a star.

Post a Comment
|

Email Article
| |

Permalink
|

Print Article
in

Free Agents,

Nippon Professional Baseball
|
tagged

Daisuke Matsuzaka,

Hideo Nomo,

Japan,

Kei Igawa,

Koji Uehara,

Masahiro Tanaka,

Nippon Professional Baseball,

Rakuten Golden Eagles,

Yu Darvish,

posting,

splitter