Jonathan Scippa
|

Thursday, October 21, 2010 at 9:46AM
How good has Robinson Cano been for the Yankees this postseason?  Last night he hit his 4th HR in the ALCS and raised his line to .387/.406/.871 with a .522 wOBA over 32 plate appearances.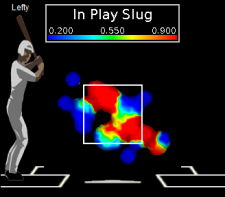 Robinson Cano's ALCS In Play SLG%
The handedness of the opposing pitcher has made little difference for Cano as he's hit two HRs off LHP (both against C.J. Wilson in two different games) and two off RHP (Tommy Hunter, Game Two and Colby Lewis, Game Five).  In the regular season, 13 of his 28 homers came against lefties.
Two of Cano's postseason HRs and his one triple came on sliders.  This should come as no surprise as Cano has slugged .706 against sliders in 2010, first in the AL among LHB with a minimum of 50 PA featuring sliders.  His .420 wOBA against the pitch is second in the AL behind Justin Morneau.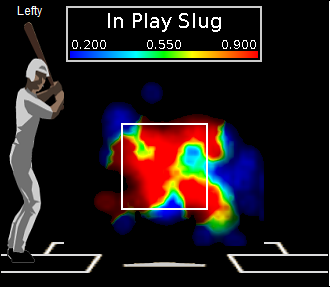 Robinson Cano vs. Sliders in 2010
As the Yankees look to mount a comeback in the ALCS, they will need Cano to continue his outstanding hitting.  Of course, they better hope his back doesn't give out from carrying the team for 5 games.

Post a Comment
|

Email Article
| |

Permalink
|

Print Article
in

ALCS
|
tagged

Robinson Cano,

Yankees,

rangers