Bill Baer
|

Thursday, October 21, 2010 at 1:42PM
On the FOX broadcast of the NLCS last night, Joe Buck and Tim McCarver went over Ryan Madson's statistics when he was brought into the game, concluding that he was one of the most underrated relievers in baseball. It's true, and it's a drum I've been banging for a while -- even calling for his promotion to closer, usurping the role of Brad Lidge.
As the following chart illustrates, Madson found quite a bit of velocity some time in early August of 2008.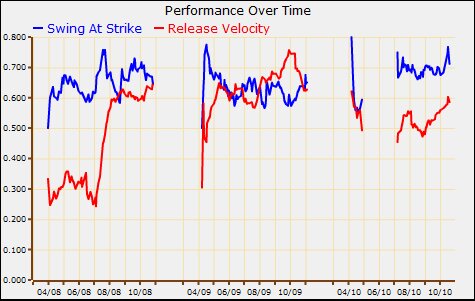 His strikeouts-per-nine innings rate went from 7.3 in April through July to 8.3 in August and September in 2008. In 2009 and '10, his K/9 rates were 9.1 and 10.9 respectively.
He pairs his ability to miss bats with elite control. Since '08, his walk rate never exceeded 2.6 per nine innings.
How is he so good? His mid-90's fastball is perfectly complemented by a deceptive change-up that averages 83 MPH. With as much as a 15 MPH differential, Madson's pitches become extremely hard to square up for opposing hitters.
Among pitchers who have faced at least 200 batters, Madson falls into the 97th percentile in wOBA allowed, at .168. His strikeout rate is in the 99th percentile, incredibly.
Madson becomes even more amazing when you look at his platoon splits. Although he deals with right-handed hitters better, as expected, lefties still have a very hard time hitting him. This is due to Madson peppering the outside corner with change-ups, rarely coming inside.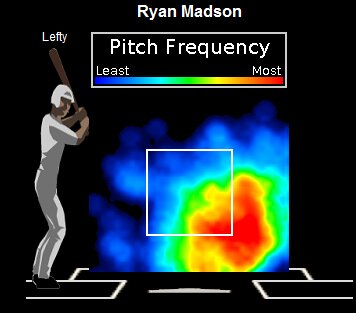 Against lefties, Madson's wOBA allowed and strikeout rate still fall in the 92nd and 96th percentiles, respectively. Against right-handed hitters, those two stats are both in the 98th percentiles.
Madson will enter the final year of a three-year contract in 2011. Although the Phillies have a lot of money coming off of the books, including Brad Lidge potentially, Madson -- represented by super-agent Scott Boras -- should garner a lot of attention from the other 29 teams in the Majors. He is a guy with dominant stuff that can close on just about any team.

Post a Comment
|

Email Article
| |

Permalink
|

Print Article
in

NLCS,

Phillies,

Pitchers
|
tagged

NLCS,

phillies,

ryan madson