David Golebiewski
|

Friday, October 19, 2012 at 8:49AM
The New York Yankees' season ended last night when Prince Fielder snagged Jayson Nix's pop-up at the lip of the infield grass, completing the Tigers' four-game ALCS sweep. The sad part? Nix's one-hundred-foot floater was one of the Bombers' better ABs -- hey, at least he made contact!
New York led the American League in both on-base percentage and slugging during the regular season, but the club's offense no-showed in October. Here's a post-mortem on the Yankees' bats:
Collectively, the Yankees batted .187, got on base at a .254 clip and slugged .303. Ichiro was the only Bomber to tally double-digit hits (11), and Raul Ibanez was the only guy to go deep more than once (he hit three HR).
New York's trademark plate patience disappeared in October. The Yankees chased 32.4% of pitches thrown out of the strike zone during the playoffs, up from 27.3% during the regular season. Teams have been jumpier overall in the playoffs while facing higher quality pitching (the chase rate has increased from 28.4% during the regular season to 30.4%), but that's still a major jump in swinging at junk for the Yankees.
The club's biggest hackers were the hitless Eric Chavez (43.6% chase rate) and Robinson Cano (41.5%), who went 3-for-40. Chavez went after pitches thrown a foot outside, while Cano extended the zone down to his shoe tops:
Chavez's swing rate by pitch location
Cano's swing rate by pitch location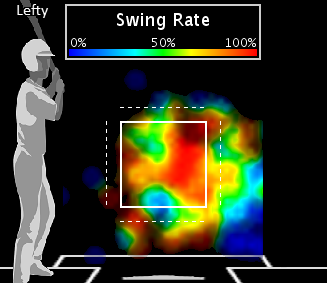 Curtis Granderson whiffed 43.5% of the time that he swung, far north of his already-high 29.7% miss rate during the regular season. He struck out 16 times, four more than any other postseason hitter.
The second-most whiff-tastic hitter? Alex Rodriguez. Despite being plastered to the bench for much of the ALDS, A-Rod struck out 12 times during the postseason. He whiffed 37.9% of the time that he swung (27.1% during the regular season).
Robinson Cano didn't record a single hit against a breaking or off-speed pitch, going 0-for-23 against curves, sliders and changeups. Pitchers buried Cano with soft stuff thrown low and away:
Location of breaking and off-speed pitches thrown to Cano during the playoffs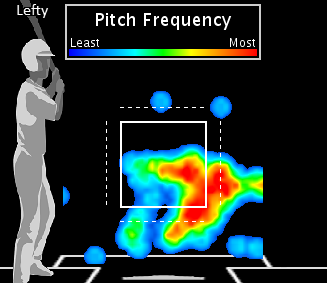 Russell Martin's hitting woes weren't due to poor plate discipline -- he just couldn't connect on pitches thrown over the plate. Martin saw a strike 55.6% of the time, second-highest among playoff hitters with at least 30 plate appearances (Jon Jay is first, at 56.2%).
Nick Swisher passed on some meatballs. He swung just half of the time that he got a pitch thrown middle-middle over the plate, down from about 76% of the time during the regular season. The average swing rate on middle-middle pitches is about 75% during the playoffs, and it was 72% during the regular season.
Comments Off
|

Email Article
| |

Permalink
|

Print Article